We're really excited about our visual arts programme for this summer at Greenbelt. Here's a quick summary of what's in store.
---
Art and Installations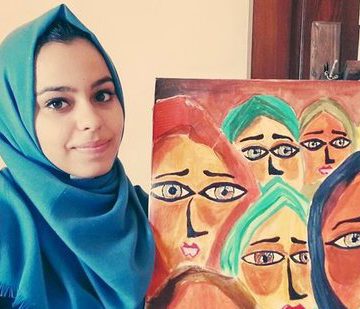 Teenage Gazan painter Malak Mattar will be with us all weekend and we've secured special permission to exhibit her work up in a  gallery space in the main house at Boughton. Malak is an astonishing talent and her story of making work in response to blockade and trauma is at once heartbreaking and beautiful.
Limbic Cinema is back with us – this time with a bigger and braver piece of projection mapping that you won't have to look so hard to find. We loved working with this creative Bristol group last year and are delighted to have commissioned them to produce a second bespoke piece for the festival this summer.
We think you'll love Pif Paf's ethereal light installation, Celestial Cloud (pictured at the top of the blog). It's an interactive digital sound and light sculpture inspired by cosmic clouds and nebulas – the clouds of dust and gases in which stars are formed. Obviously! We love Pif-Paf's work – they're a genre-bending theatre company creating performance and sculpture and taking it to the places it doesn't normally reach. Like Greenbelt.
Teakster is a groundbreaking community street artist working with traditional Islamic form and giving it a spray-painted and contemporary edge. He'll be in residence all weekend working in and around the youth venues to create an amazing communal wall of art in the spirit of the festival theme – acts of the imagination.
Nottingham-based Georgina Barney has shown work at Greenbelt before and is back this year with a project that connects to the land and farming. Over the weekend Georgina will respond to the landscape and livestock at Boughton itself – especially focussed on sheep and wool – making large drawings and offering drop-in workshops in spinning too! She'll be in residence in The Shed Gallery all weekend.
---
Other galleries in sheds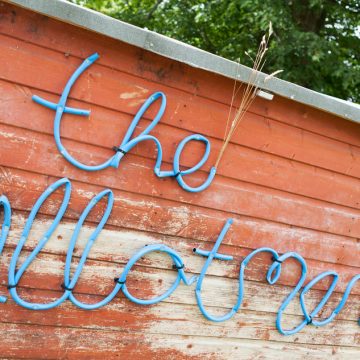 The Allotment Gallery will once again be our fast-changing gallery exhibition space at the festival with a range of contrasting work over the weekend from artists including Si Smith with Chariots of Fire, Jessica Smith with Mud, Glorious Mud, Pippa King with My life in Sharpie, Rebecca Walsh with Owned Once More, Meg Wroe with Song of the Tree, Nick Walters with Sow In Tears, Reap With Joy,  Revd Eric Rew with Out of the Whirlwind, and  Joanna Brown with her Jesus exhibition.
And The People's Gallery will be back again this year – your space to do your thing across the weekend.
---
Hands on – Art School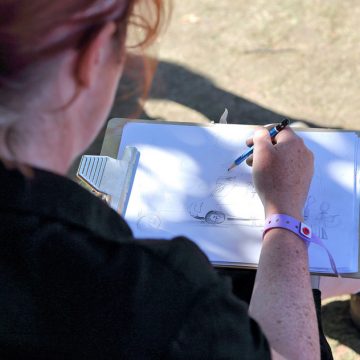 There aren't many outdoor festivals that offer free to access high calibre art workshops led by professional and expert arts practitioners. But at Greenbelt, the Art School has become a mainstay of the festival over the years. But move fast, places are limited and the sign-up sheets get filled up soon (details in the Guide and App).
This year our Art School workshop leaders include: Katie Jones, Marek Tobolewski, Matt Lawrence, Pippa King, Pip Herbert, Ruth Bennett, Sheena Cruse, Meg Wroe, Georgina Barney and Si Smith. And, for the first time, we're also offering Art School classes specifically for children and families and for young people too. Watch this space.
---
The Boughton House Art Collection 
Not forgetting that Boughton House itself has a stunning collection fine art collection and it is yours to access on Saturday and Monday mornings (see Guide and App for details). There is a charge. But it's well worth it to see the nine rooms, including incredible pieces of art by Boulle, van Dyck (40 in one room), El Greco and Gainsborough.
And, of course, parts of the festival landscape itself are works of art too! Most notably Orpheus, Kim Wilkie's celebrated modern-day landform in the shadow of The Mount and just beyond the Golden Ratio.