We are delighted to be able to present an ambitious, curated Muslim arts programme once again within Greenbelt festival this year, thanks to the support of Amal (a Saïd Foundation programme). And once again, we are working with Muslim arts curator Asad Ali Jafri, following our successful pilot collaboration with him and Amal back in 2017.
Back in 2017, we were delighted and excited to produce the Amal Muslim cultural programme in its own standalone venue – the Amal Tent. And that worked wonderfully well, with many festival-goers saying it was their favourite venue onsite.
But this time around for 2019, working with Asad and Amal, we were determined to bring great Muslim artistry right into the heart of the festival – Amal artists on our main festival stages and across our festival venues – to programme and platform something completely integrated.
We're doing this not least because both Amal and Greenbelt believe in the transformative power of the arts. But also because this fits with our own longterm commitment to platform Muslim ideas and art in our main programme – stretching back almost two decades now and sure to continue well into the future. The backing of Amal and the curation of Asad means we can do this, and do it bigger and better, than we ever could on our own…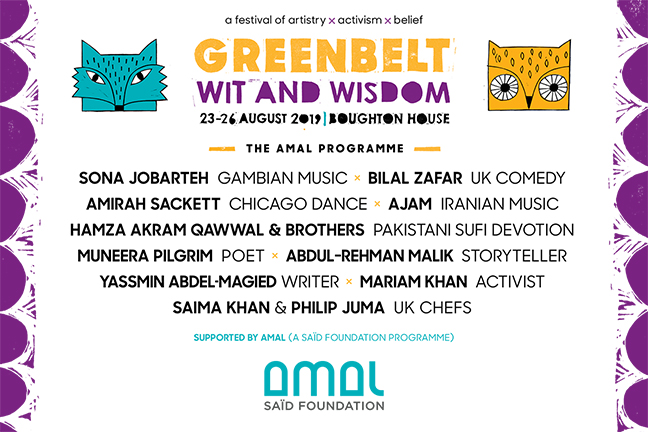 What we've been able to do with Asad's curatorial eye and Amal's support is to gather together a really diverse and impressive array of talent that you'd be hard-pushed to find anywhere else on the same bill.
From the irresistible Gambian sounds of the sublime Sona Jobarteh to the Iranian fusion of Ajam; from the Chicago-based hip-hop street dance of Amira Sackett to the poetry and provocation of UK poet Muneera Pilgrim; from the spirited storytelling of Canadian-born Abdul-Rehman Malik to the Iraqi and global cuisine of Saima Khan and Philip Juma; from the hilarious stand-up of the UK's Bilal Zafar to the Sufi devotional music of Pakistan's Hamza Akram Qawwal & Brothers and the feminist advocacy of British writer Mariam Khan and Sudanese-Australian broadcaster Yassmin Abdel-Magied.
It's a bill drawn together under a Muslim banner, without necessarily being exclusively religious; a bill that reflects the diversity, breadth and depth of Muslim identities and expression from around the world. It's a bill that echoes something of the Takin It To The Streets Muslim-inspired festival from Chicago that Asad helped to found back in the noughties.
It's a bill that shouts: these are all the things we can be, in just one weekend – in the hope that in that encounter, our views of Muslim identity and artistry will be transformed and deepened.
So, this year, you'll get to experience a wide range of ambitious Muslim artistry from the UK and around the globe in many of your favourite festival spaces – from street dance to cooking, music to storytelling, devotion to poetry.
Here's what curator Asad Ali Jafri says about the Amal programme at Greenbelt 2019:
"Amal-supported programming at Greenbelt in 2017 was wildly successful and I was delighted to hear that it will return in 2019. I'm also honoured to be involved again as Greenbelt is really a one-of-a-kind festival. This year, the Amal-supported programming at Greenbelt is even more exciting because it is now immersed and intertwined throughout the festival's venues, further amplifying Muslim art and culture as a significant part of the Greenbelt experience. I'm also excited by the diversity of offerings both from the UK and around the globe as they range in discipline and genre, as well as the facets of nuanced and complex Muslim identities that they represent. With Greenbelt's continued support of Muslim arts and culture, I'm looking forward to experiencing the magical unique moments created when artists and audiences interact."
We can't wait to share it all with you.
---
Notes
Asad Ali Jafri is the Curator of Programs at Shangri La Museum of Islamic Art, Culture & Design
This programme is supported by Amal (a Saïd Foundation programme)
You can follow Amal here:
@WeAreAmal
#AmalUK
facebook.com/WeAreAmal
Amal – 'hope' in Arabic – is a programme of the Saïd Foundation making grants in the UK in support of a rich diversity of arts projects and activities, including storytelling, visual arts, theatre, poetry, film, music and dance. The programme aims to further the following dual interlinked objectives: 
To increase understanding of Britain's Muslim communities among people of other faiths and none;

 

To foster a stronger sense of belonging in the UK among its Muslim communities.

 
Amal believes that engagement in arts and cultural activity broadens horizons and forges common ground within and between communities. The programme hopes to touch the lives of many, creating greater understanding and bringing people together in creative, innovative and exciting ways.