There are many things that make Greenbelt different to most other festivals. But one of the things that's perhaps most distinctive (and that we're most proud of) is the quality of theatre we're able to programme, in our Playhouse theatre venue and also around site.
We think you'd have to travel a long way to find a festival of our size so ambitiously committed to producing the range and diversity of performing arts that we do. It's one of the things that surprises new festivalgoers. It also surprises the performers we platform.
As you might imagine, sometimes it takes all our Head of Programming Katherine's persuasive skills to convince a company to bring their show to the festival. But, invariably, once they're with us, playing to full houses and looked after by our wonderful artist hospitality and venue teams, they have a wonderful time. And always want to come back!
We seek out theatre that is challenging and brave, that intersects with our festival DNA of artistry, activism and belief. It's almost as if our audience enter a different world when they leave the sunshine of the festival fields outside and immerse themselves in the Playhouse theatre space. Each year, one of our favourite things is to watch festivalgoers emerging from the Playhouse after each show, blinking not just as they adjust to the sunlight, but as if they've seen a different reality and are determined to hold onto that vision as long as they can. 
Once again, Katherine has worked her magic and pulled out all the stops to curate another wonderful performing arts bill for our return to the fields. We're also really pleased to have secured Arts Council funding to support our Playhouse theatre bill this year, too: a first for Greenbelt. All the shows we have booked are on our poster billing and you can dig into the detail on our web listings. But here's just a quick overview…
Black is the Colour of My Voice, presented by Apphia Campbell and James Seabright
We're incredibly excited and proud to welcome Apphia Campbell's acclaimed play to Greenbelt. It follows the journey that took Nina Simone from a young piano prodigy destined for a life in the service of the church, to a renowned jazz vocalist at the forefront of the Civil Rights Movement and includes many of her iconic songs, sung live. 
Three Men From The North, presented by The Nordic Council
In quirky contrast here's a piece of contemporary circus about a hard day's work, routines, coffee and knitted woollen clothing. It's blunt and to the point in a way that only Finnish humour can be, Swedishly self-aware, and with a hint of Icelandic peculiarity.
The Chosen Haram, presented by Sadiq Ali
Performed on two Chinese poles, this emotionally candid yet heartwarming story unfolds with gravity-defying tricks and extraordinary movement. The Chosen Haram deals with themes around sexuality, faith, addiction and connection.

Evita Too, presented by Sh!t Theatre
We're pleased to welcome back Sh!t Theatre with their brand new, future-cult musical about women and power, corruption and compromise. Expect fascism, wizards, military coups and beautiful corpses. What's not to love?

The Future we Choose, pressed by Jackson M. Phoenix and Barney White
A collaboration between Jackson M Phoenix, Barney White and you, The Future We Choose is a summer-long commission that aims to craft a radical new collective vision for our shared future.

666 Comments, presented by Aliki Chapple in Association with Little Mighty
A comic strip about online sexism goes viral – collecting 666 comments in just three days. Some of them witty, some of them outrageous, some of them just plain bizarre. Hilarious, provocative and occasionally plain terrifying, the play stages the comment thread.

Strong Enough, presented by strong Lady Productions
Using circus, comedy and feats-of-strength, this surprising and uplifting show celebrates stories of finding strength in unexpected places. It is in the struggle that we find the strength we didn't know we had. That we learn that we are 'Strong Enough!'

The Nobodies, presented by Chalk Line Theatre
Through wonderful storytelling and theatre, Chalk Line Theatre take us into the life of a town is in turmoil where a hospital is closing and an MP is found dead on the train tracks. The questions it poses are for us all: What does it take to enact real change?  And what would you sacrifice to keep it?
Roald Dahl and The Imagination Seekers, presented by Get Lost and Found
Especially made for children and families, this show is an immersive and interactive performance, involving games and imaginative play, all the while exploring Roald Dahl's extraordinary stories – including The BFG and The Twits – along the way.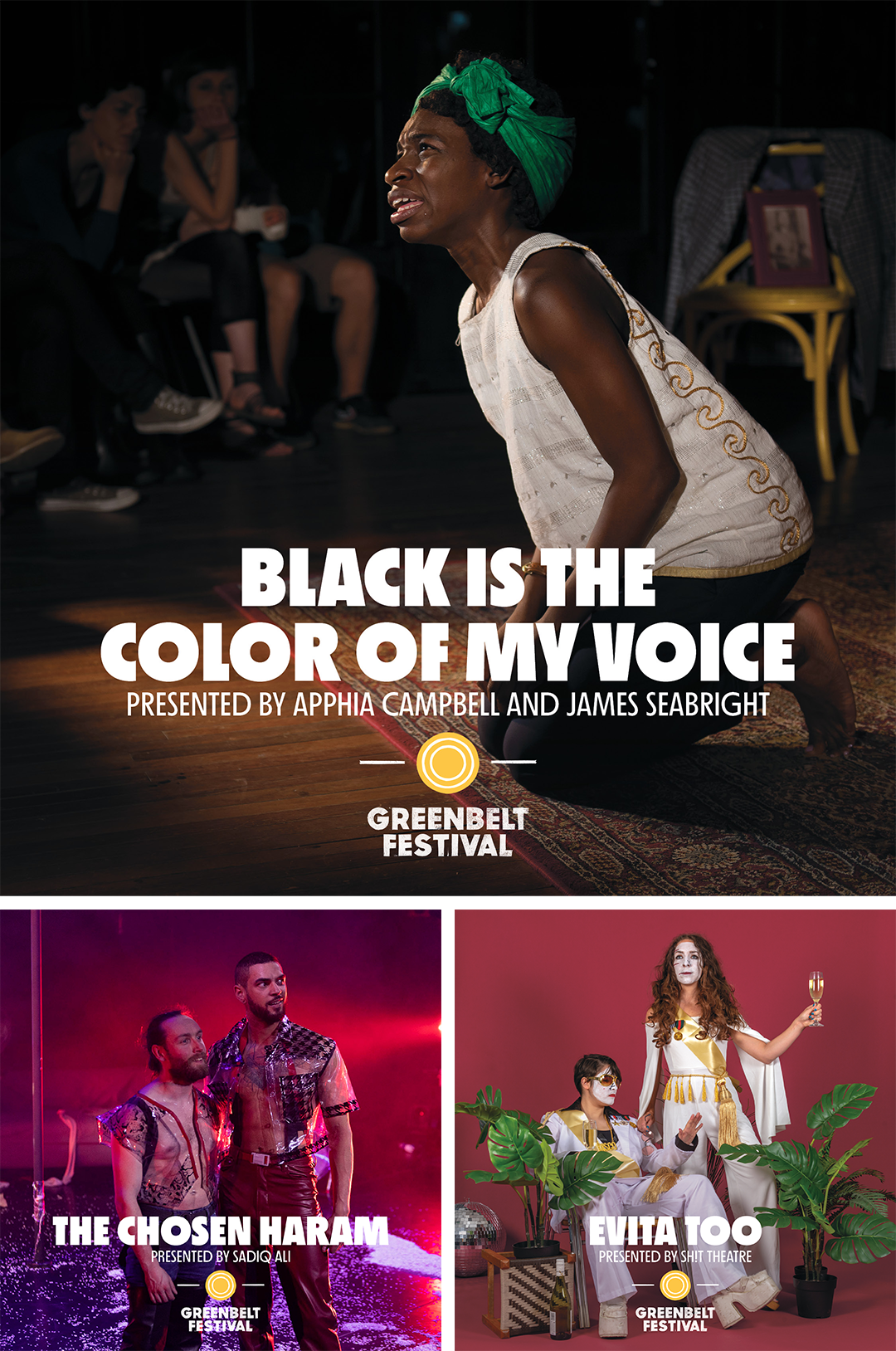 "The Playhouse is a brilliant venue and fantastically well supported with helpful staff. Thank you for looking after us so well."
Vamos Theatre, on Twitter, after the 2015 festival
"Our largest crowd to date and what a great crowd it was! I felt privileged to be there."
Ben Duke of Lost Dog Dance, on Twitter, after the 2017 festival
"Thank you so much for having us at Greenbelt festival on Sunday. We had an absolute blast, it was wonderful to do the show in front of so many people. The show is usually performed in the round to between 60-100 so doing it arena style was a complete change for us!"
Milk Presents…, Ruby Glaskin
"I wanted to say a big thank you for the wonderful experience Bryony, Beth and I had a Greenbelt last weekend. The hospitality was fantastic and your crew across each part of the festival were extremely helpful and professional."
Bryony Kimmings (Philippa Barr, Producer)
"We had THE best time at Greenbelt festival! The detail and commitment to the organisation of the event was overwhelming and paid off dividends on the day – it was genuinely one of the most welcoming experiences we've had in our ten years." 
Proto-type Theater, Gillian Lees