GeekDad Gamer Andy Robertson writes about this year's plans for video-game programming at the festival …
---
Greenbelt took a risk on video-games last year with its Interact programme, and it really paid off. I've never seen a mainstream arts festival put such faith in technology to create meaningful encounters and unusual spiritual places.
In the Little Big Top we played games about cancer, heard from industry experts, hailed new champions, danced, laughed and cried. News reverberated around the site, as well as national newspapers and YouTube.
This year we're back with more ambition and anticipation to see how video-games can contribute to our spiritual life. It's a conversation that's essential for everyone, whether you play games yourself or love someone who loves to play games.
Last year's success means I'm able to bring video-gaming's most interesting experts to help us understand what games can offer both adults and children.
Minecraft artist and Stampy collaborator, Adam Clarke, and poet, Victoria Bennett, will share their unique playable Minecraft poem My Mother's House. It's a moving poem-world about their personal experience of terminal illness, cancer and death. In a new medium, it explores the memories we carry with us when we say goodbye to those we love. You can read about it in The Guardian here.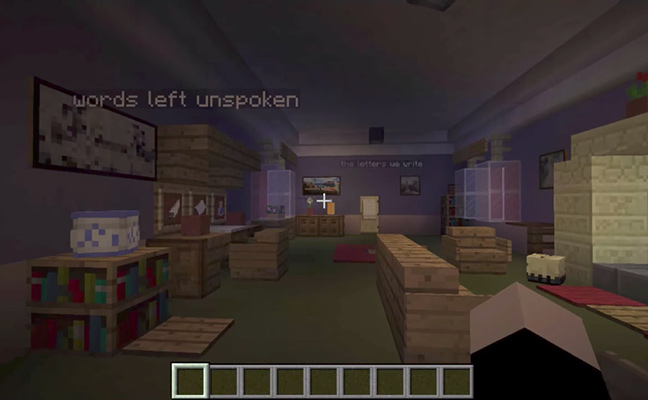 Simon Parkin, New Yorker writer and Iain Simons, CEO Nation Videogame Foundation, ask whether video-games have more to offer society than entertainment. "Parkin has a deft sense of the ways that video games appeal to and satiate the longings of the spirit," wrote the Washington Post about his book, Death by Video Games. Iain wrote about games in The Guardian, "Videogames speak culture with ever increasing fluency. The problem is that cultural policy doesn't speak videogame – yet." Together they will help us chart a path into the world of games that offer a deep pool of meaning, spirituality, catharsis as well as competitive enjoyment.
We'll also be back on The Lawn as the dusk falls each day to play unusual games together. If gaming conjures images of solitary individuals playing in darkened rooms come and play games like you've never played them before. Use pens and paper to Draw and scan-in Minecraft skins. Or run, dance and shout as we play groundbreaking experiences like Joust, Spaceteam and A Dark Room. Best of all you can take these games home with you.
It's a glittering line-up of games, professionals and enthusiasts. The Interact team will be curating each of the events and on hand to answer questions about how to get more out of video-games in your family, community and church. It's designed to be accessible to everyone, whether you know nothing about video-games but would like to learn more or are an avid gamer.
It all kicks off on Friday afternoon with our first session in The Little Big top at 6.30 pm. We'll start with the basics, introducing what games are, why they are so popular and how they impact our lives. It's a chance to consider what games are doing to our families and children – the good and the bad – before pointing to how they can become something of eternal value.
If you'd like to get involved or find out more, you can find me @GeekDadGamer on Twitter.
I'll leave you with this video of what happened last year: