Want to join our Heavenly Host?
Housekeeping
We keep in touch with our Angels by email – so we need to have your details right. Hannah in the office looks after our Angels. You can reach her by email or by calling her on 020 7329 0038.
Want to make a change to your giving? See below.
Change your giving - pre 2022 Festival Angels
If you became an Angel before the 2022 Festival your donation will be processed via the Charities Aid Foundation and will show as 'Charity Donation' on your bank statement.
To make any changes to your giving please get in touch with us and we can make them for you. 
Change your giving - new signups at and since the 2022 Festival
We are now using SheepCRM to process your donations (which uses GoCardless to take recurring payments).
To change the amount, pause or cancel your donation…
you can login to your donations page (if you are a greenbelt volunteer, it should be the same as your volunteer login).
click on the three dots to the right of the relevant recurring donation & you change the amount, pause or cancel your donation.
To set up a regular annual increase go to recurring donation settings in the left hand menu.
If you get stuck just get in touch and we'll be happy to help you.
Leave your Legacy
"With John Peck's passing (he was, for me and many others, the inspiration behind Greenbelt's distinctive theology and raison d'être), my thoughts have increasingly turned to legacy: what will I leave when I go?"
Martin Evans, former Greenbelt General Manager
Legacy giving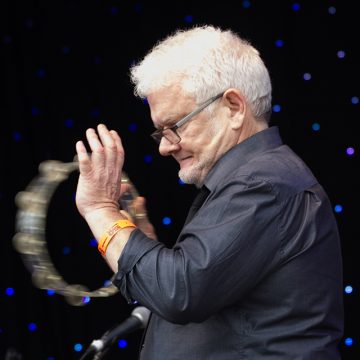 Here's what former Greenbelt General Manager Martin Evans says about the importance of legacy gifts for Greenbelt:
"In terms of its longevity, it [Greenbelt Festival] is a middle-aged event now. Those who have been around since the beginning – and there are a surprising number of us! – are growing old, too. But the wonderful thing to see is that the festival continues to win new, younger audiences year-on-year. And that's what I, as a Greenbelt grandee, love to see.
 
With John Peck's passing (he was, for me and many others, the inspiration behind Greenbelt's distinctive theology and raison d'être), my thoughts have increasingly turned to legacy: what will I leave when I go? John has left a legacy of a worldview that still helps to shape and guide the festival today – and that will be remembered this year at the festival through the inaugural John Peck Memorial lecture, delivered by another long-term Greenbelter, Steve Shaw. But what about me?
 
I'm proud to still be connected with the festival and its working. I take a keen interest in its health and direction and regularly pitch ideas and volunteer in all sorts of different roles. It's in my blood. But, having recently celebrated my 70th birthday, I'm making sure that I'm remembering Greenbelt in my will now, too. I'm setting up a legacy gift that will benefit the festival that has given me so much life over the last 40+ years, so that it will be able to give life to others for many years to come.
 
So – I have walked through that perhaps unsettling door marked "planning your giving for after you die" and I can report that there's life on the other side! In fact, it actually feels good to have made this commitment.
 
I will now invite any of you who have grown up with Greenbelt or who have any form of deep affection and value for the festival to consider doing likewise.
 
Spaces such as Greenbelt become increasingly vital in seeing the Kingdom come on earth, as it is in heaven. It's a precarious business, producing an annual outdoor event of the scale and ambition and motivation of Greenbelt. And planned giving makes a world of difference to the festival's confidence and purpose. 
 
I invite you to join me in creating a Greenbelt legacy."