As it's Sunday, we thought we'd list some of the ways in which, by gathering together at Greenbelt, we might just be able to dream up – and even make – a better world.
The key is the word 'together'. That's where the magic happens. Change is made in community; when we realise we're not alone; when we draw strength and inspiration from belonging to one another and to a movement of people who yearn for the same, fairer world that we do.
Our little lists are usually a lot of fun. But when it came to talking about making a better world it was a bit harder to be as light-hearted. Because there is work to do. Hope you understand?
Anyway, once we're together at the festival, here are just six happenings that could cement this sense of the possibility of change for you.
---
1. Climate Assembly
On Sunday, to close our programming in the Hot House, we're hosting a special 'Climate Assembly', facilitated for us by Jamie Kelsey Fry from XR. His 'experts' at the start of the Assembly will be fellow XR activist Clare Farrell, Nicaraguan Roberto Martinez and a Greenpeace campaigner. Join in this radically inclusive and grassroots form of democracy and together let's identify what we, as Greenbelt, can do to tackle climate change as we depart the festival.
2. The Living Room – and the birth of new anti-poverty coalition
Drop in on the conversations in this brand new venue hosted by our friends at Trussell Trust, together with a team of people with lived experience of poverty. From daily newspaper reviews to Places of Welcome sessions, the Living Room will be a key focus for our anti-poverty programming across the weekend, kick-started by former prime minister Gordon Brown. See how you, your churches and your communities can change in order to welcome, support and advocate for the increasing numbers of people living in poverty in our country today.
3. Festival friends
Our raft of incredible partners will be at the festival, sharing their essential work with you and asking you to get involved with them. Both here and globally, our partners are involved in transformative, life-changing and sometimes even life-saving work. Take time out over the festival to touch base with as many of them as you can. Here's a blog about who they are, the work they do, and what to expect from them at the festival this year.
4. Greenbelt Communion
Our communion gathering this year centres around the idea of 'gift'. It's a powerful word. Especially in a world fixated on the cost of everything. As it's our 50-year anniversary, we'll give thanks for the gift that Greenbelt has been in our lives and in the life of the church and culture. And, to close, we'll make our own pledges about what we could give into the life of our communities as we head home from Greenbelt. There's nothing more powerful than gathering with thousands of others to break bread at Greenbelt. A better world often starts here.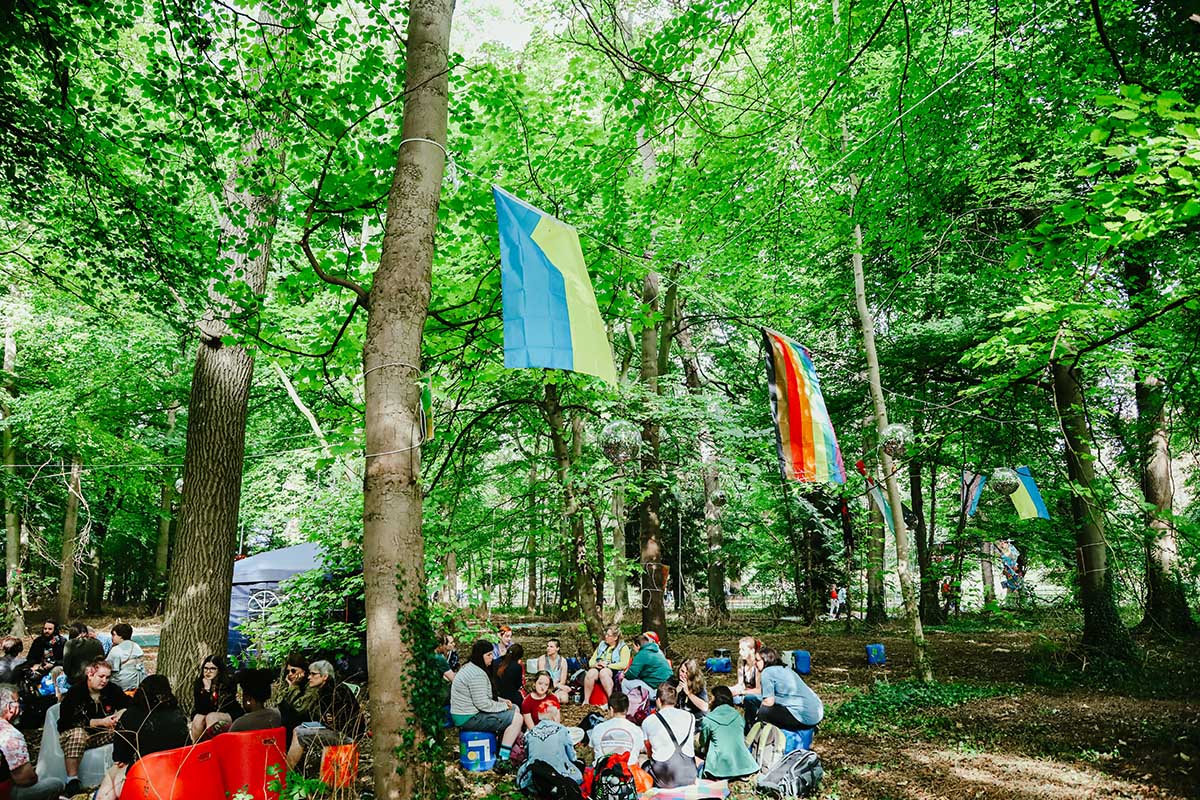 5. 50 for 50
Don't forget, we're partnering with our friends at Citizens UK to recruit 50 new host families to take in 50 Ukrainian refugees this summer. Our headline act on Friday at the festival is the Ukrainian band Balaklava Blues and they will be performing with a scratch choir of resettled Ukrainian refugees in a powerful act of solidarity. Join one of Citizens UK's daily sessions in the Hope & Anchor to find out how you can help.
6. Changemaking for all ages
There are a wide range of workshops on offer at the festival, teaching new skills you can take away and implement where you live. For instance, we believe that young people's voices matter! We also believe that engaging with your local MP is a great way to use your voice to take action to make the world a better and fairer place – no matter your age. But knowing where to start can be tricky. Look no further: Christian Aid will be running a youth workshop called 'Courageous Advocates' for any young person who wants to tool up for this vital task.