We asked trustee Ben Solanky to blog about his experience of going on the Greenbelt-Oasis Trust alternative pilgrimage to Palestine-Israel with Amos Trust in May. Here's his story, in seven images and reflections …
---
As a trustee of Greenbelt I recently I went on an alternative pilgrimage to Israel and Palestine with Amos Trust. 
Here are seven reflections – in the form of photos and captions – that sum up being in the Holy Land for me. 
---
"I am the Uncomfortable Tourist"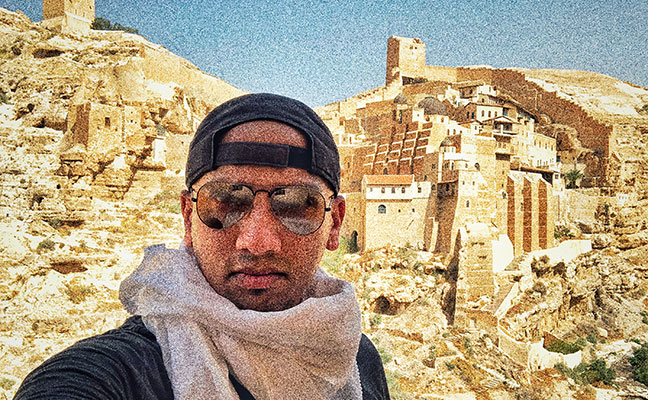 I came to see and experience this land that I have only learnt about from books, friends, family, Aid workers and newspapers. I thought I knew stuff about this place. But the more I explored the less I felt I understood. Before I came, I spoke to my Dad and colleague about coming and they kept saying how amazing it would be to walk where Jesus walked and be where he was. The reality is… wherever I followed in his footsteps and walked where he was supposed to have been… he was not there. Instead was the frenzy of those around me in search of a special moment to meet their Jesus. I kept searching and all I found was relics and icons. 
2. It's more than building up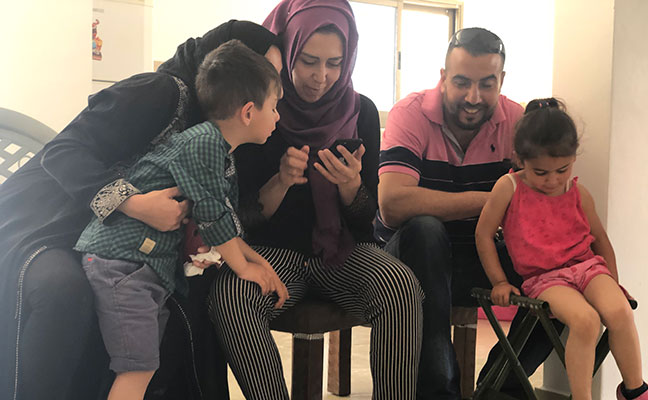 It's Ramadan and Today I spent the morning in a house that was recently rebuilt. The previous one was demolished. The people who lived there had received a demolition order. In the night the IDF came. Surrounded the area. They proceeded to demolish the home. They destroyed the plants. Just a month earlier an international team had come to help rebuild their home. It could not be built in exactly the same place to avoid another demolition order. The hostess was in tears as she welcomed us in. She was so proud of this home that was gifted to her and her family after the horror of losing her other home. She said they still have restless nights. Her neighbour ran in and wanted to tell us about the group who came months earlier here to help rebuild it. She had tears in saying what courage she had drawn from this small bunch. They worked hard. Some senior in their years but very junior in their working. She said in her small but limited English: "thank you and may god bless you". They then served us some food and drinks despite having themselves to hold back due to Ramadan.
3. Break Fast. Stand Fast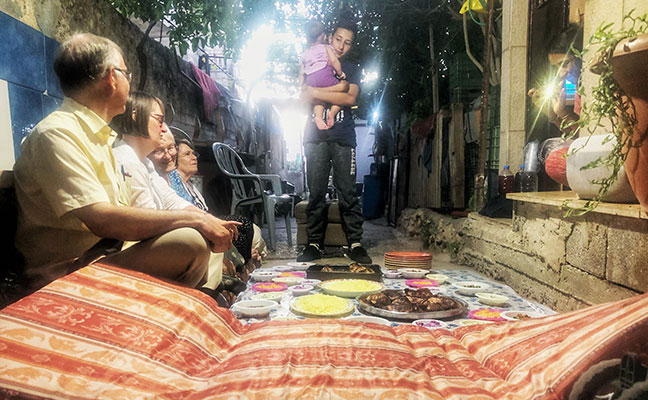 Then in the evening we travelled to Aida refugee camp where we waited patiently till the sun going down, helped prepare food with families. Upon sunset we all shared in eating dates, breaking of bread and feasting on a delicious meal. As we broke fast together… this meal seemed much more than just an average dinner. It was a precious moment of fellowship and feasting as the twilight succumbed to nighttime.
4. Are you feeling settled?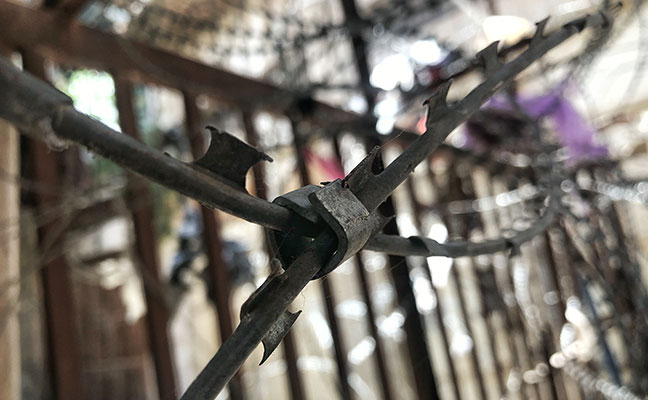 Nothing struck me more than learning about the term "settlers" and "aggressive settlers". This was referred to a group of Israelis who have "settled" deep in Palestinian territory. There are two sides to this: one fulfilling a deep sense of religious entitlement, the other seeing a further incursion into their ever diminishing land. The settlers are supported, encouraged and often well subsidised by the Israeli government to settle. Some come from abroad to do so.  Their presence serves to build a foothold in to the area and impose further 'rights' to the land. These settlements increasing have walls around them as the safety of the settlers is at risk. Whilst there we saw a group of children on the school run, they were surrounded by a civilian private guards with radios and guns. As for me, I felt very unsettled. 
5. Hebron and Rachel's tomb broke me
Our guide, a Barcelona fan (I know this as we shared about retelling the story of the Liverpool Barcelona game), tells me that he can't join us as we cross to the other side of the road. He's Palestinian and his movement is restricted. Earlier he had been showing us the tourist attraction of the grave of Isaac. This has two access points. One for the Jewish people and the other was for the Palestinians. One side has bullet proof glass. As we left an area we say three Palestinian teenagers get serached. We keep walking and our guide says I'll meet you at the other side. We walk through deserted streets. And streets with posters saying "Welcome to Hebron: the cradle of Jewish Civilisation". A few days later on the top of the Alrowwad centre in Aida Camp. I was staring at Rachel's tomb. It was hidden behind a wall. Earlier that day I had read a poem of another child dying in the shadow of her tomb. It was all too much for me. Broken. 
6. "Our existence is resistance"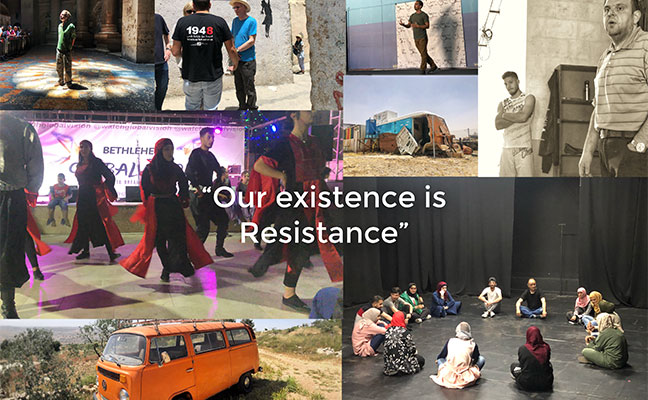 It's been 71 years. There's not much sign of improvement here. Perhaps a new tactic is to give up and give in. The Palestinians we met were in the 2nd and sometimes 3rd generation of living in exile. When asked about the solution… it seemed that all else is failing and one act of resistance is remaining… the very virtue of existence. We heard the phrase "Our is existence is resistance"… and we witness beautiful acts of such resistance… resistance in the form of an ancient Palestinian dance called 'Dabke', in the form of theatre groups telling stories, of music, of acrobatics… and even of conservation. We visited a farm called The Tent of Nations and the main conservationist said: "we need to be creative… we would love to have a school here but we can't build, but what if we had a school that was moveable and on wheels". Here I witnessed acts and ideas of beautiful resistance. And what a beauty they were too. Mesmerising.
7. About that Wall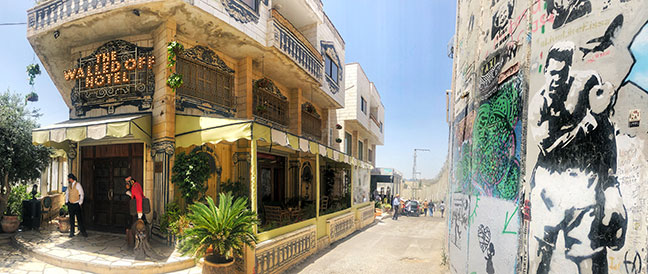 Boasting the worst views in all of Bethlehem, Banksy's 'The Walled Off Hotel' sits adjacent to the separation wall of Bethlehem that leads to Rachel's tomb. This top class hotel sits alongside mesmerising graffiti all long the monument of separation bringing in the tourists to see for themselves 'the wall'. It also has a very impressive museum to walk through too. With self playing pianos and interior the experience was surreal. Later that week 'the wall' cast its shadow upon us as we sat there feasting on a BBQ on a long table in the Wi'am Peace Centre as the sun went down. A saying came back to me whilst the sun started to descend and the cool of the evening came "when you have more than you need build a longer table not a higher fence"
---
Greenbelt is looking to offer future alternative tours to Palestine in the future with our friends at Amos Trust.