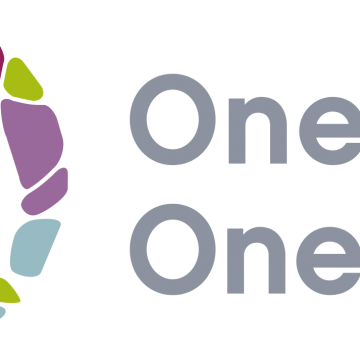 Our Creative Director Paul Northup attended OneBodyOneFaith's Rainbow List Awards.  Greenbelt is really proud to be on this list.  Here are some of Paul's words from the ceremony …
---
Thank you to Tracey Byrne and OneBodyOneFaith for their invite here tonight. Tracey has been inspiration and bellwether for me in my role as Creative Director at Greenbelt for many years now.
On the Rainbow list, Greenbelt is described as: "Affirming the lives, loves, stories and gifts of LGBT people since 1975." Apart from the fact that our first edition was in 1974, I'd really hope that this has been true. It's one of the main reasons I am privileged to work in my role.
I first bowled up at Greenbelt in 1984, and from small 'Safe Space' gatherings to 'Hot House' debates (about whether it was OK to be Christian and gay – er, yes!); and from visits from the Robinsons (Tom and Gene) to my being given the job (as a then-trustee) to act as chaperone to Peter Tatchell when he first came to Greenbelt, the festival has been on a journey with LGBTQ people. A journey which has sought to include and celebrate rather than spotlight and scrutinise.
At Greenbelt, we don't just platform people because they're gay to speak about being gay. Rather, we platform gay and queer artists, speakers, writers, leaders, activists because they're human … and they're great and gifted in what they do.
Growing up with wonderful Welsh Baptist grandparents and going to a small provincial Baptist church, so-called "biblical authority" played a shaping role in my early life. But too many of my friends 'came out' as I grew up for that inerrancy to hold for me. The silence, the things unspoken, the hiddenness, the subterfuge, the awkwardness – it all seemed so at odds with the gospel of Jesus Christ of Nazareth, which I increasingly read as a liberation text: about God's desire for our human flourishing, for us to be made 'fully human'.
Back in January, we had a reaction on social media. It read: "I won't be going to Greenbelt this year as I won't be welcome as a white heterosexual male." I read that and – after a moment of facetious uncharity, when I felt like responding: "well, that makes two of us" – I got really sad. Sad, that if you are perceived as being 'for' some then you are automatically against others. Such is the age we live in. Fuelled by a politics that is increasingly pragmatic and rooted in factional notions of identity and seemingly lacking in vision and inclusion.
We have had the honour and privilege at Greenbelt to work outside of the institutions of church and culture, allowing us to create a space of welcome and safety and affirmation. We are so blessed to have been able to work with, listen to and learn from many, many wonderful LGBTQ people over the years.
So, on behalf of a sea of others at Greenbelt – past and present – my heartfelt thanks and encouragement to OneBodyOneFaith and all those wonderfully brave people on the Rainbow List. On the eve of the debate in Synod, I remain deeply in awe of anyone who wants to be part of something, who wants to stay, who wants to contribute their energies, passions and talents – despite everything. And I struggle to see why such willing commitment, faithfulness and love should not be honoured.
Greenbelt is proud to be named on the Rainbow List.
---
OneBodyOneFaith is the new name for LGCM and Changing Attitude.
The Rainbow List is published here.