Our friends from the United Reformed Church will be joining us at Greenbelt Festival this year for our 50th anniversary festival. In this guest blog, URC's Deputy General Secretary – Revd Adrian Bulley – shares his experiences of Greenbelt.
---
This year, Greenbelt celebrates its 50th anniversary. That's 50 years of celebrating arts, faith and justice. But what exactly is attending the festival like?
Here, the Revd Adrian Bulley, Deputy General Secretary (Discipleship) for the United Reformed Church (URC), shares what it was like attending his first festival 14 years ago, what stopped him making the festival a regular summer activity, and what encouraged him to start attending again:
My first Greenbelt was in 2008, when the festival was at Cheltenham Racecourse. At the time my eldest son was a regular volunteer in the youth venue, and I decided to tag along to see what all the fuss was about. So, I pitched my tent and set off to experience all that Greenbelt had to offer. I remember some great talks, including festival regulars John Bell and Brian McLaren, and the author Michael Morpurgo, and some excellent music, most notably for me from another Greenbelt stalwart, Martyn Joseph.
There was no formal United Reformed Church presence back then, but loads of URC folk around, and it was fun bumping into people, especially in the Jesus Arms!
I had a great time as a virgin Greenbelter, and fully intended to return the next year, but somehow, I didn't: not for any particular reason, it's just that stuff happened.
And stuff kept on happening. In fact, it was fourteen years before I made my Greenbelt return in 2022.
And what a difference I noticed. For a start, the festival had moved across the country, from Gloucestershire to Boughton House in Northamptonshire. Where the racecourse had been a good venue, Boughton House is a great venue, much more pleasing on the eye.
Whilst the same stalwarts were there, propping up the listings, including John Bell, Brian McLaren and Martyn Joseph, the festival seemed somehow keener to embrace everyone, more inclusive, greener, more sustainable, and all the better for it.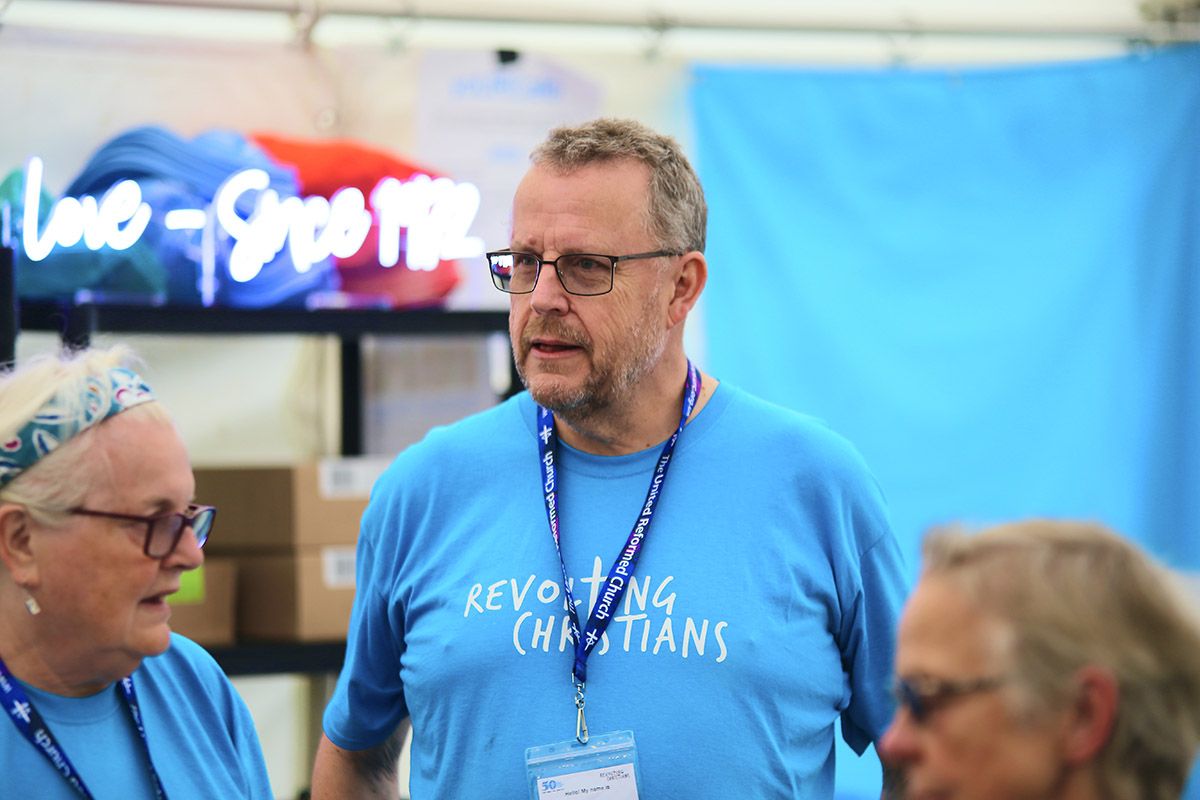 And how great that the United Reformed Church is now an Associate Partner of the festival, a relationship which is undoubtably helped by the fact that Greenbelt office is now based on the second floor at Church House.
I returned to Greenbelt as a volunteer in the URC's café, crafting and conversation venue, helping to serve teas and coffees, hot lunches of food that would otherwise have gone to landfill, sandwiches and a seemingly endless supply of cake. All the while engaging in conversation with a long line of people of all ages, shapes and sizes. It was a truly wonderful time, helping the URC to showcase a range of 'Revolting Christians' from American civil rights activist Martin Luther King to influential United Church of Jamaica minister Madge Saunders, and many more besides.
I'll most certainly be back for more of the same this year, once again volunteering in the URC marquee, and looking forward to many more encounters with a wide variety of people. If you'll be there, do come in to say 'hello'.