Part of the joy of making Greenbelt is that we do it in partnership with other organisations whose values and visions overlap with ours and who see our people as their people – and visa versa. Here's an overview of the organisations we're working with this year and what they'll be doing at the festival. We call them our 'Festival Friends'.
---
MAIN FESTIVAL PARTNER
---
Christian Aid's vision is to end poverty. They work for and with people of all faiths and none, as well as with churches and other organisations, to promote sustainable development, strive for social justice and pursue our vision of a world without poverty. In 37 countries, they support poor and marginalised people, whatever their beliefs, sexuality, gender and ethnicity, to lift themselves out of poverty. They do this by tackling both the causes and the symptoms of poverty so that everyone can achieve equality, dignity and freedom.
We have enjoyed a partnership with Christian Aid that is nearly 30 years old now. And this year at the festival, Christian Aid will be focussing on waking us up to the key issues of climate (in)justice that face us and how we can act for change, through their onsite presence – Wake Up! Rise Up! Pay Up! – inviting us all to join their 'Loss and Damage' campaign.
Christian Aid will have a base in the Glade Arena, but we've collaborated with them this year to programme their presence across the festival and into our venues. This includes daily panels in The Hot House venue, daily prayer in The Shelter venue with the Northumbria Community, their Letters for Creation workshops with all ages in various venues across the weekend, and a Sunday evening climate vigil beneath Luke Jerram's GAIA. We'll also be hearing from Christian Aid partners in Bangladesh and Kenya as part of our Sunday Communion. 
---
VENUE PARTNERS
---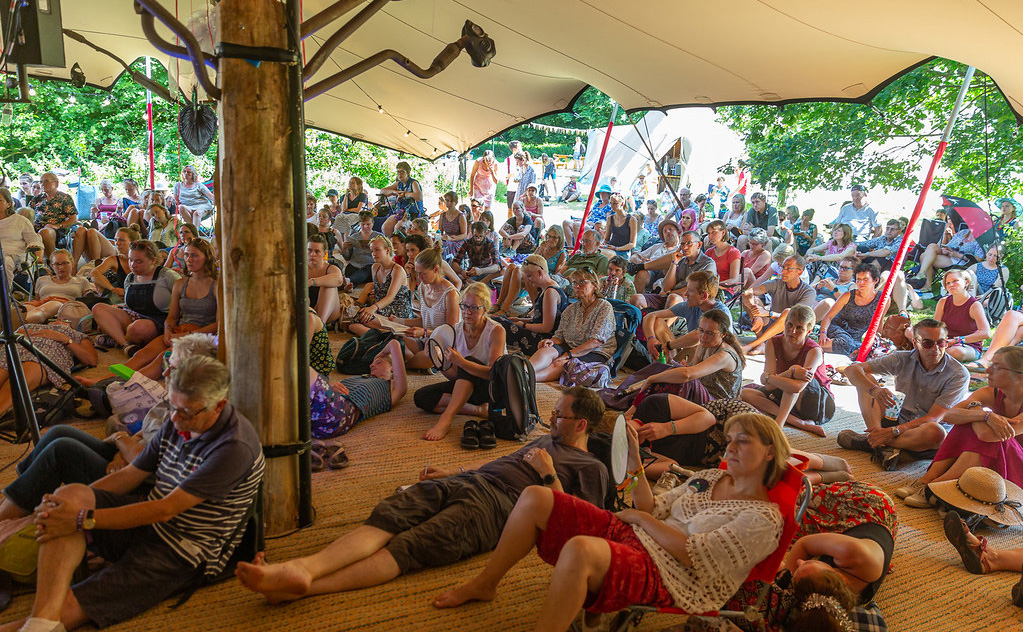 The Pickwell Foundation collaborates with charities working with displaced people and with those combating climate change. This year, the second time, they are supporting us to produce our dedicated climate change-focussed venue and programme in The Hothouse.
Over the course of the weekend you can experience an bewildering, brilliant array of artists, activists, faith leaders and more – all committed to fighting for justice and change in the face of the accelerating climate emergency.
By night, the Hot House will transform into our after hours club venue with great DJs each night, kickstarted on the opening Friday by the Pickwell posse themselves with Planet Dance, featuring DJ Steve Baker and friends.
---
The Methodist Church are here for the hymns and the John Wesley wisdom (he was one of their founders). But they're also here to be bold in their justice seeking, radical in their inclusion, and authentic in their sharing of God's love. 
This year, The Methodists are bringing us the Hope & Anchor – a conversation-bar serving non-alcoholic drinks. A dry bar with free-flowing, real, gritty and sacred conversations about justice, faith and identity. An alcohol-free space for the kinds of conversations you've always wanted to have, with contributors, friends, and strangers. Come as you are to simply relax. Come to talk, listen or bring your questions. Come to play a game that defeats mundane small talk. Come and see if you can break out of the Hope and Anchor escape room: The Lock-In (booking required). Let the conversations flow!
---
CCLA manages investments for charities, churches and faith-based organisations as well as the public sector. Good investment relies on good thinking. And that's why CCLA are supporting The Pagoda venue and programme at Greenbelt for the second time. With CCLA's support, we are once again, reshaping the venue and producing it in the round. This allows for wider conversations and bigger debates – a space to explore all angles, for a truly rounded view. For what CCLA are keen to support – good thinking for a better world.
The year, CCLA will be represented at Greenbelt by one of their partner organisations, ECCR, who equip individuals and churches to make financial choices that reflect their faith and values, campaigning for more just policies and practices in the way money is used by banks, businesses, and in the tax system. ECCR's vision is to see money used to create a fairer, more sustainable world by helping faith communities and people to make financial choices which reflect these values and passions. ECCR will host a session in which you can find out how we can act for a fairer, greener use of money, and navigate through the jargon and greenwash to make a real difference by using our money to invest in a more hopeful future. 
---
ASSOCIATE PARTNERS
---
The URC (United Reformed Church) are a family of Christians, worshipping in the name of Jesus in about 1,500 local churches from Orkney to Cornwall. They do not fear change, and they try to run their churches in ways that take everyone's insight and contribution seriously. 2022 sees their 50th anniversary as a denomination and they'll celebrate that at Greenbelt.
This year, the URC bring us a brand-new family cafe, crafting and conversation venue onsite – yoURCafe and on Sunday they'll host a special 50th anniversary service in The Shelter venue. They're also supporting us in hosting, holding and collaborating on the programming in our youth venues – the Engine and Den – onsite. In fact, what would we do without them?
---
Citizens UK is a people power alliance of diverse local communities working together for the common good. Their mission is to develop leaders, strengthen civic organisations and make change.
As well as bringing a group of some 100 people of all ages who would otherwise not be able to access the festival, Citizens Uk will be hosting daily sessions in The Shelter venue entitled 'Everyday People Making Change' in which they'll explore some of their key community campaigns and how faith commitment has been part if the engine that has driven change – from racial justice to a Living Wage, to fostering local artists and creativity to welcoming refugees. You'll also be able to catch them and learn their method in the Jesus Arms over a cup on Monday morning.
---
Amos Trust is a small creative human rights organisation that challenges injustice, restores rights and creates hope by promoting Palestinian rights, supporting climate justice activists around the world, and advocating for the rights of girls and young women living on the streets.
At the festival, Amos will be hosting the groundbreaking 'On Location' mixed media visual arts exhibition in the Tapestry Suite up at Boughton House – showcasing the work of Gazan artists (including malak Mattar, who we also hope to have at the festival in person this year). Following Greenbelt, an extended On Location exhibition will open at Banksy's Walled Off Hotel in Bethlehem. You'll be able to hear from malak herself in the Rebel Rouser stage about what its like to have grown up in Gaza. And, in launching the On Location exhibition and their wider work with Palestinian partners, Amos will be joined by artist-activist Brian Eno, who himself has a longstanding commitment to the artistry ad resistance of the Palestinian people.
---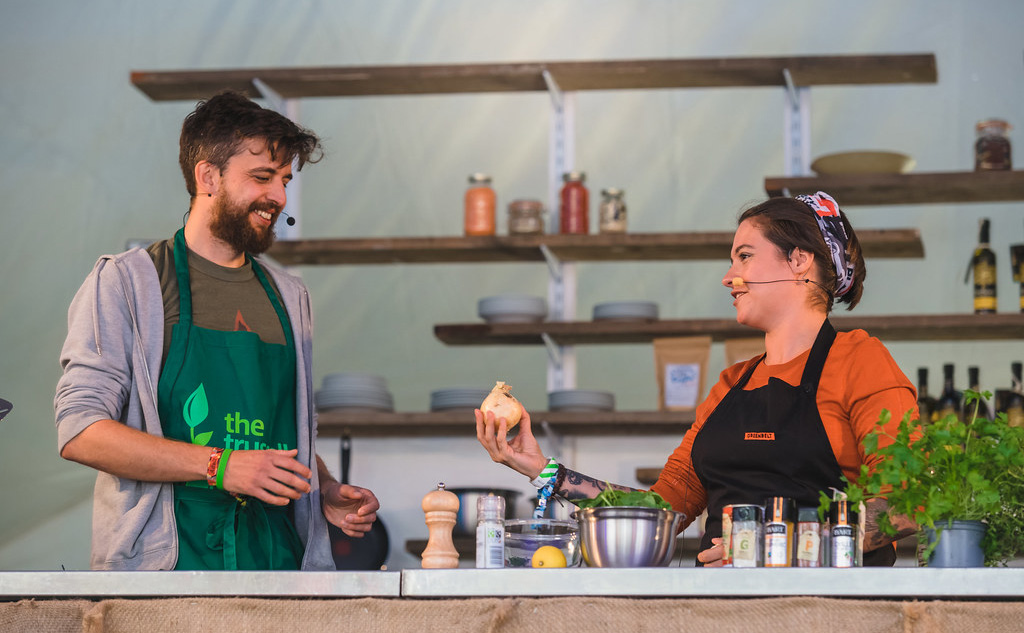 The Trussell Trust supports a network of more than 1,200 food bank centres, who give emergency food and support to people in crisis across the UK, where more than fourteen million people live in poverty. As well as providing emergency food supplies to people in crisis, The Trussell Trust also engages decision-makers with the realities of poverty and are particularly interested in ensuring the UK has a robust welfare safety net and that work that pays enough to keep people out of poverty.
At this year's festival, they will collaborate with Danny Dorling on a session entitled 'The pandemic, food banks, inequality and hunger' and showcase their 'Impossible Choices' giant dice game – to hit us full-square with the facts about those enduring poverty and rife inequality in the UK today.
---
TAKEAWAY PARTNERS
---
The Student Christian Movement – SCM
SCM will be hosting daily student meet-ups in the Jesus Arms as well as hosting a session on finding faith communities after you leave home (to study or work) in the Hope & Anchor.
---
CMS will be hosting morning meet-ups for pioneer church leaders in The Hope & Anchor, as well as bringing Johnny Sertin to the the festival to speak on 'rewilding the soul' in the Grove venue and Ash and Anne Barker to lead a session in the prayer tipi on urban mission, social justice and grassroots transformation.
---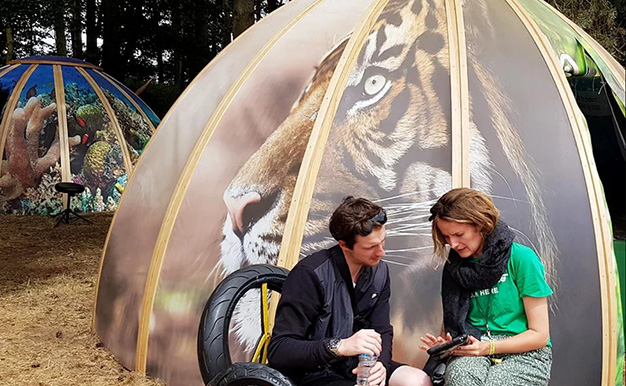 Greenpeace will be with us for the first time this year with their interactive dome installations all weekend and a session in the Hot House, where Paul Morozzo (Greenpeace's Food and Forests campaigner and activist) challenges us on our meat-eating and its impact on climate change.
---
Christians Against Poverty – CaP
CaP are back with us at Greenbelt to engage you with he vital work they do in supporting people – practically and prayerfully – to manage, budget and plan their way out of crippling debt.
---
FUNDERS AND SPONSORS
---
Arts Council England have supported us with a grant towards the Playhouse theatre tent and its programme this year.
The Westhill Foundation have supported us with a grant to help us continue to bring great Muslim artistry and thought to the festival.
Christian Connection will host two meet-ups for single festivalgoers in the Jesus Arms, one in collaboration with our OUT@Greenbelt team.
---