Andy Robertson, aka GeekDad Gamer, returns to Greenbelt once more this summer with a whole heap of ideas and opportunities around digital gaming and exploring faith and meaning through them. Here, he blogs about all he has in store for Acts of the Imagination…
---
This year at Greenbelt we have a unique opportunity to take part in a story about a Syrian woman trying to travel to Europe. Nour and Majd are husband and wife and represent thousands of people who flee their country – or watch their relatives flee – all in hopes of finding a better life in Europe.
Of course, this is Greenbelt, so there is a twist and a call to action. The twist: you take part in the story by playing a game on your phone or tablet. The action: we're asking you to play the game in the run-up to the festival and then bring it with you.
Before you click away, particularly if you don't play games, please read on because this is specifically for you…
The game is unlike others you've likely heard of. Not only the theme, but how you play it. You take the role of husband Majd, who stays back in Syria and can only offer advice to his wife Nour via text messages.
The game is just a couple of pounds and can only be played in ten to fifteen minutes a day. It's called Bury Me My Love, from an arabic expression that means take care of yourself, and can be downloaded for iPhone or Android devices. If you're not sure about doing that you can click this link to play a short introductory part of the story on your computer before you buy it.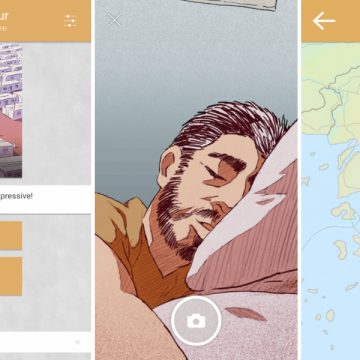 When you start playing, Nour will pop-up like a message on your phone when she needs to talk to you. If Nour is busy travelling, or her phone is out of charge in the game, you might not hear from her for a few days.
Your advice to Nour will affect her decisions. The game pays close attention to how you respond. There are 1000's of possible journeys and 20 different outcomes. You can instantly see Nour's progress in a map that tracks her journey and tells you about the different locations she visits. It's a new and unique way to understand first hand something of what these journeys are like.
I played it in my family this week, along with my wife and daughter, and had an amazing time with it. I thought I knew about these situations. But now when I see the news I have an entirely different connection to them.
At Greenbelt we are going to meet up and compare our journeys with Bury Me My Love in a session in the new Telescope venue between 9am and 11am on Saturday. I'll have an exclusive interview with the developer answering your questions, which you can sent to me via Twitter, email or just text 07540 717270.
I'll also have all sorts of other interesting and unusual games for you to try at the session, as well as suggestions for what to play next when you get back home. These are games designed to be engaging for adults but also enthusiastically played by children as well.
What better way to deal with Fortnite or FIFA obsession that to get your children playing amazing games about immigration, hope, refugees, faith, communication, laughing, homelessness, failing, falling in love and space travel.
Along with these pop-up gaming sessions, I'll be giving a talk for parents and carers of gamers called Taming Gaming Disorder, Fortnite and Faith at 2.30pm on Saturday in the Telescope venue.
And, of course, for the seventh year running, I'll also be running a Joust Championships outside on the Lawn at 7pm on Sunday.
I'm looking forward to meeting up again, and dicsovering more surprising things that video games have to offer us, our children and our faith. They can be an amazing new way to experience stories and enter a world from someone else's perspective.
I hope these sessions will introduce you to a new perspective on video games for you and your family. Any questions, do get in touch with me via Twitter, email or just text on 07540 717270.
---
In the meantime, you can get weekly videos aimed to help parents guide their children to gaming health for £1/month here https://www.patreon.com/geekdadgamer. I've also written a book on the topic of games and spirituality for Grove books here https://grovebooks.co.uk/products/y-49-exploring-spirituality-in-video-games-encountering-meaning-in-digital-spaces.