2022 GREENBELT FESTIVAL GUIDE ADVERTISING
Festival Guide
The Greenbelt Festival Guide is a tabloid newspaper format (235 x 315mm) with a Daily Diary pull-out and in full colour throughout. It contains all the essential information for what is happening at the festival over the weekend plus additional articles and content.
Greenbelt festivalgoers are extremely activist, committed to change, getting involved in issues, and spending time getting to the heart of the matter. Every organisation who comes to be at the festival tells us that the depth of interaction and engagement they experience is better than anywhere else they go.
Full page, half page and quarter page ads are all available, please see sizing and prices as detailed. If you are interested in advertising this year in the guide please get in touch and lets have a chat. Email hannah@greenbelt.org.uk or call on 0207 329 0038.
| | |
| --- | --- |
| Artworks | to be supplied as a pdf, see specification below |
| Deadline | Final Artwork must be received by Friday 8th July |
If advertising in the guide isn't for you, but you have other ideas; inserts, banners, bags or anything else, then please do get in touch.
Sizes & Pricing
SIZE
PRICE*
FULL PAGE
£1200
HALF PAGE
£650
QUARTER PAGE
£350
* Please note a

ll fees stated are exclusive of VAT which will be charged at the standard rate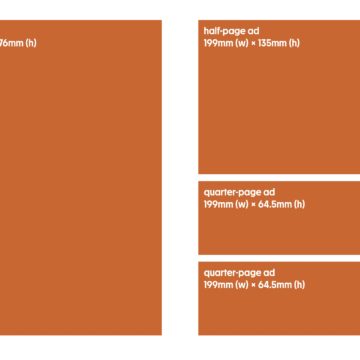 Technical Specification
When creating your artworks we require them supplied as a pdf file at the correct size. Please point your designer to this page for the full technical specifications