When we first dreamed up our brand new approach to ticket prices, we knew it wasn't without some real challenges. 
After all, there's a reason that festivals use the familiar, deadline-driven approach to selling tickets. 
Because it works. 
Gradually increasing the price of tickets over the course of the year, and telling people they can save money if they buy 'NOW!' works as a helpful reminder for busy would-be festival-goers, and it helps to shift tickets in decent numbers early on. 
Driving those early sales is absolutely crucial when you're making a festival. That income – and the certainty it brings – is vital for organisers so they know how big (or small) they'll be able to dream in six months' time.
---
Headliners and deadliners
Those sales make the rest of the festival possible, because festivals have to start spending money so early in the year, and that income is your lifeblood when booking everything from street food stalls to skate ramps.
The downside for the audience is that ticket prices become more expensive the closer you get to the festival, and so the buying incentive ends up punishing anyone who can't get the money together early on. 
Offering the chance to pay through the year in monthly interest-free instalments has always been our attempt to rectify that imbalance, but rewarding those able to pay early still can feel like a punishment for those who might not have that luxury. Particularly right now. 
But what if, we thought, we didn't do that?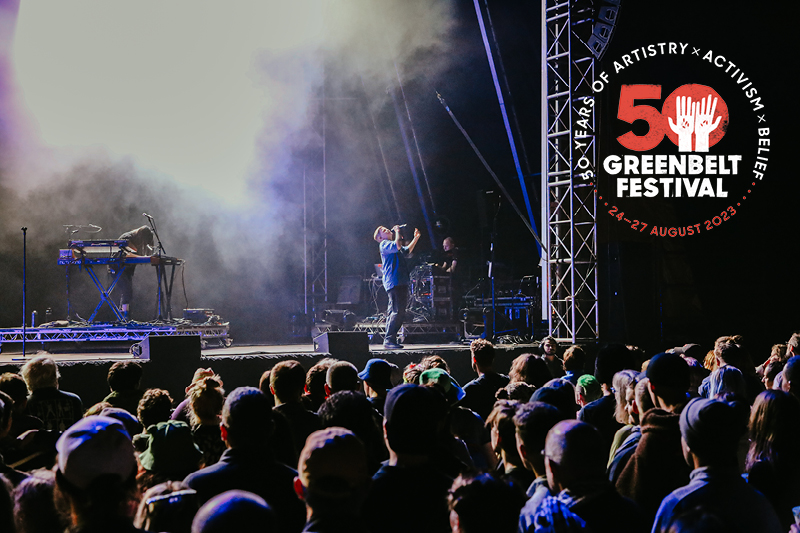 Somewhere to believe in
What if, instead of hiking the prices up artificially to drive sales, we trusted in our community and did something different? Something born of a more honest, radical, generous spirit. Something more…Greenbelt?
What would that ambition look like if we applied it to our ticket model? 
So we did a lot of careful maths (like, an amount of maths that even Harry Baker might have thought excessive) and put together 3x brand new different ticket prices for adults, with the aim of holding them at exactly the same price all year long. All of which could be paid for across the year in monthly chunks, totally interest-free.
Then we did a lot of praying (like, an amount of praying that even Nick Cave might have thought excessive). 
And we waited.
You. Me. Us.
And then you answered. In your droves. Lots and lots of our magnificent Greenbelt community choosing to pay a little bit more for your ticket, so that you could help those of us with a little bit less. 
We've seen those healthy ticket sales hold very steady each month too, instead of peaking and troughing as they do when they track ticket deadlines. 
Also, our idea – to make our festival as financially inclusive for as many people as possible – has caught on. Our friends elsewhere have asked if they can use the same model for their events, and we've been only too happy to share it.
We need your help to make this experiment work
But now….(and here is the festival-sized 'But now' the more seasoned Greenbelters may have been waiting for)…we're about to enter the endgame for those all-important early ticket sales.
Our new approach, like anything truly worth doing, has never been without its risks. The main challenge has always been that – without those ticket deadlines (artificial or otherwise) acting as sales drivers across the year – we wouldn't sell as many tickets as early as we usually do. And that would have a knock-on effect on our festival finances.
So the challenge for us has always been very simple. Can we sell enough tickets by the end of March to mean that our pricing experiment can stick?
(Yes, the irony of trying to do away with deadlines – but then referring to how important the next 8 weeks are going to be – is not lost on us. It turns out that cold, hard festival economics will do that to even the best of intentions.)
While there have been plenty of sales to celebrate so far, there's everything still to play for if we want this model to work. 
If it does? We won't need to revisit our ticket pricing or the decision to ditch the traditional tiered deadlines. 
But if it doesn't? Then we'll take our licks, learn the lessons and try something a little more tried-and-tested for the rest of the festival build-up. 
As we're being as transparent and open as possible, it's worth pointing out here that if we do need to review our radical new ticketing 'experiment' in the spring, we'll have to look at all the 'variables' – including, of course, price.
Do most festivals unburden themselves like this? No. 
But do they try and do something different? Also no. 
That said… they also don't have a community of Greenbelters to share this stuff with, safe in the knowledge that those thousands of people have their back. 
---
So here it is. The next 8 weeks are probably the most critical time of year for us, where every early ticket sale comes into its own. 
For example, if you buy in January you can still spread the cost into 7 monthly instalments without paying a penny more. 
And if you are able to buy before the end of March, you'll be helping us to hit our target and dream as big as possible for our birthday. 
We believe, as we prepare to hit fifty, that our festival's honest, radical, generous spirit has never burned brighter.
We'd love it if you could help prove us right. Buy your tickets now.