As we hurtle towards our end of March Tier One ticket deadline (prices go up after midnight on Thursday 31 March), our world is in turmoil. Putin's war in Ukraine, climate catastrophe, the cost of living crisis, the ongoing pandemic – it's a comprehensive shock to the system. As big as most of us have ever seen. So why continue to dig in and make a festival against this backdrop? Paul Northup, Greenbelt's Creative Director, uses today's additional lineup announcements to answer that question…
---
Well, it's what we do. This is our mission: to create a space in which artistry, activism and belief can fuse together, helping us face our lives in the world with renewed grace and hope. And the clutch of artists we're announcing today epitomises Greenbelt at its prophetic best – from soulful, heartfelt music to ground-breaking ideas, from sublime poetry and fiction writing to stunning visual arts, and from playful and provocative theatre to the world's best (and probably only) comedy-rap-jazz-acoustic duo. All helping us see ourselves and our world more truthfully, inspiring us to be the change we want to see and be.
So, who are we adding to the bill?
We've always got a long list of iconic cultural figures 'on the go'. Our rule of thumb is that we usually have to ask at least five times before getting a yes or no (or, sometimes, giving up). Brian Eno has been on this list way too long. So we're delighted that he'll be joining us at Greenbelt this year for the very first time.
Wearing just some of his many (metaophorical) hats, first and foremost he will be in conversation with Martin Wroe about his life and work, and the things that motivate and move him most. But, given his longstanding commitments to peace and justice in Palestine-Israel and his presidency of Stop the War, he'll undoubtedly also have things to say about our obsession with might and militarism, occupation and domination. Brian has also said he's really looking forward to seeing our festival headliner live. So, as you are caught up in the beauty and urgency of Kae Tempest's mainstage set this year, you might find yourself standing next to one of the most important and restless musical innovators around. Nice.
Alongside the trail-blazing Brian Eno, we're also thrilled to welcome Thea Gilmore. No stranger to the festival, it's been too long since she last played Greenbelt and much has happened to since we last welcomed her. Her split from her long-term music manager and partner led to her coining her new 'Afterlight' moniker to describe her determination to make a fresh, brave start after years of coercive control. Thea reached out to us via her agent a few weeks ago and asked us to consider her for a late slot, as she really wanted to come back to Greenbelt. How could we possibly refuse? Fans will already know of the sublime beauty of Thea's songwriting and performance. And those who don't yet know, will be transported in the field.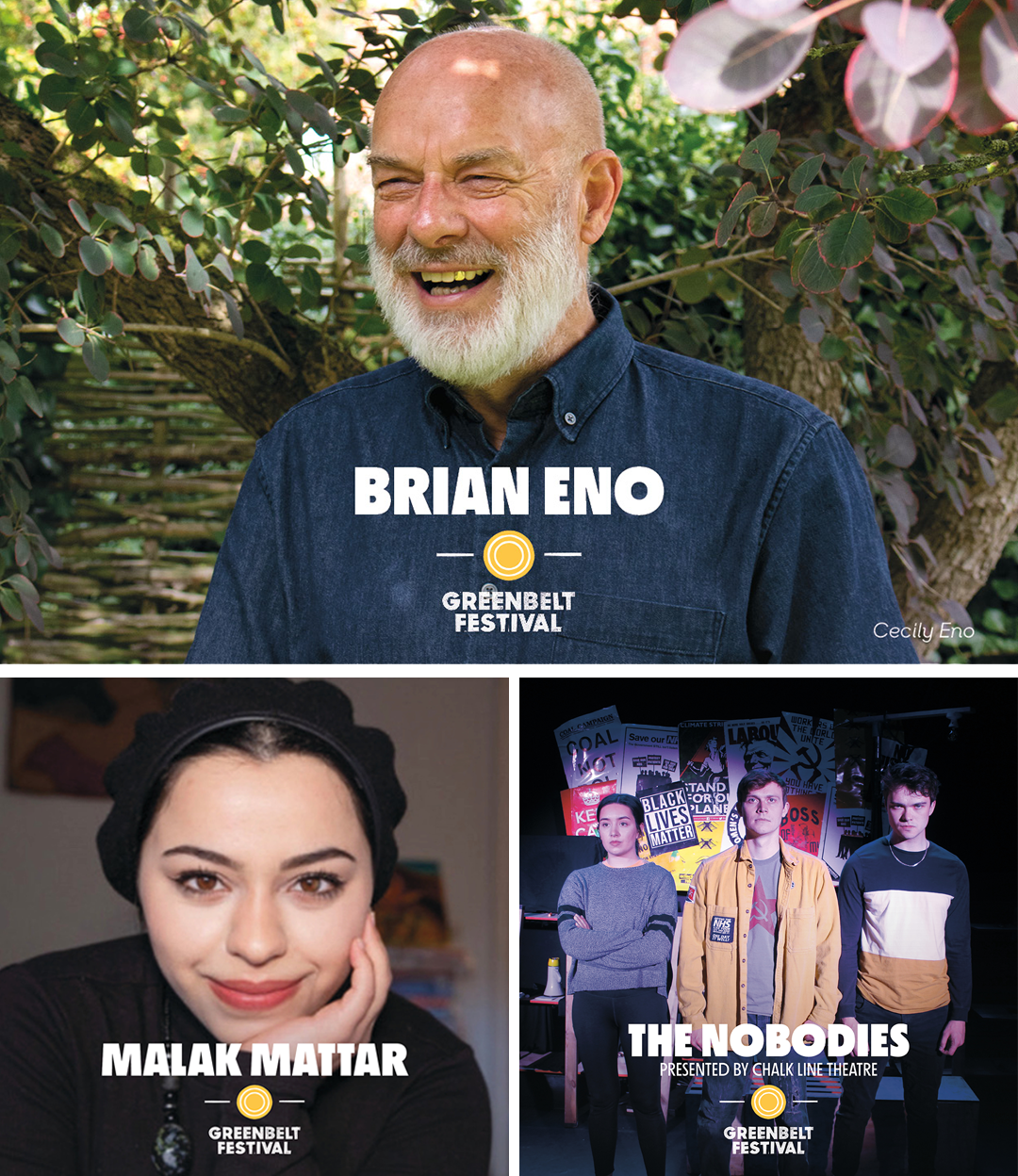 We're making a committed and concerted effort to bring young Gazan painter Malak Mattar to the festival this summer. We were due to welcome Malak back in 2018, but her visa was denied at the last minute (travel for Gazans, even when living outside of Gaza, is less-than straightforward). So last time we just enjoyed Malak's work, hung in the Tapestry Suite up at Boughton House. But this time, we live in hope of having her with us in person – as well as some of her paintings – as part of an exhibition of Gazan artists called 'On Location' brought to us by our friends at Amos Trust.
We've got plenty more yet in store on our performing arts bill, but today we're pleased to announce just one new show – The Nobodies, presented by Chalkline Theatre. Top theatre critic Lyn Gardner says that The Nobodies is: "Definitely worth seeing. Full of swagger and moral ambiguities." And who are we to disagree? Winning awards and plaudits wherever it is performed, it's perfect theatre for Greenbelt – asking the key questions we all face: what does it take to enact real change? What would you sacrifice to keep it? Fast-moving, chaotic and very funny, we're sure that The Nobodies will be a real hit at the festival this year, staged in our much-loved Playhouse venue.
We're especially pleased to welcome two wonderful writers in poet Pascale Petit and novelist Jo Browning Wroe. Pascale is an award-winning, Cornwall-based nature poet and ecologist who draws on her many-stranded heritage to create compelling and mesmerising work about the rainforests of the Amazon and India, and all who live within their delicate and vital ecosystems.
While Jo, a long-term friend of the festival, has shot to fame this year (and The Times top 10 best-selling booklist) with A Terrible Kindness. Jo grew up in a crematorium in Birmingham and her debut novel is a celebration of the power of community, love forged in pain and the redemption that comes from deep kindness in the face of terrible loss.
We're delighted that The St Martin's Voices from St Martin in the Fields will be joining us again for recitals in the Colonnades up at Boughton House, exploring – through word and song – some of the great music of our religious heritage in their Great Sacred Music performances. 
And what would Greenbelt be without our favourite comedy-rap-jazz-acoustic duo, Harry & Chris? The boys will grace our mainstage on Monday and they're scheming all sorts of ideas to soup up their set. So watch this space for something special and different from Harry and Chris.