We're pleased and proud to be able to share with you the wonderful array of partner organisations who will be present with us this year at our 50th anniversary gathering in various ways. Here's a quick guide as to who you'll encounter and what to expect. There's no way we'd have made it to this milestone on our own. Partnership is a big part of how we got here.
---
MAIN PARTNER
Believe it or not, this year marks the 30th year of our being in partnership with the global NGO Christian Aid. So, as we turn 50, we'll want to remember that for more than half of Greenbelt's journey, we've walked the way with Christian Aid at our side. And that means a lot. We sometimes joke – because of our values overlap – that if Greenbelt was an NGO it would be a lot like Christian Aid (and we like to imagine that if ever Christian Aid made a festival it would look a lot like Greenbelt). But the great reality of our long-lasting friendship is that we have given one another the freedom to the best versions of ourselves we can be.
This summer, Christian Aid will have their base location in the heart of the main Arena close to the Glade Stage and will also be bringing their Beacon of Hope installation. We'll be joined by their Chair of Trustees, former Archbishop John Sentamu who will be in conversation about his lifelong commitment to justice, and, across the weekend, they'll be placing the global impacts of the climate emergency front and centre, reminding us of the key part that they have played over the years in shifting the dial – from Jubilee 2000 and Drop the Debt, through Make Poverty History and the Big Shift to today. We're so grateful for the way in which we are reminded that we are global citizens and that we share in the delicate interrelated ecology of this one precious planet we call home. Because of Christian Aid, our eyes and hearts are fixed – from the fields of Boughton – on much wider horizons.
---
VENUE PARTNERS
CCLA – The Pagoda 
CCLA manages investments for charities, churches and faith-based organisations as well as the public sector. Good investment relies on good thinking. And that's why CCLA are once again supporting The Pagoda venue and programme at Greenbelt. With CCLA's support, we are re-housing The Pagoda into a much bigger stretch marquee covered space (our old Canopy venue), recognising that last summer its programme was attracting huge numbers across the weekend. 
CCLA will be represented at Greenbelt by one of their partner organisations, Just Money, who equip individuals and churches to make financial choices that reflect their faith and values, campaigning for more just policies and practices in the way money is used by banks, businesses, and in the tax system. Just Money will be hosting sessions in The Exchange venue, which is making a welcome return this year (see below).
The Pickwell Foundation – The Hot House
The Pickwell Foundation collaborates with charities working with displaced people and with those combating climate change. This year, for the third time, they are supporting us to produce our dedicated climate change-focussed venue and programme in The Hothouse.
Over the course of the weekend you can experience a brilliant array of artists, activists, faith leaders and more – all committed to fighting for justice and change in the face of the accelerating climate emergency. The Hot House will be moving into the space onsite where The Pagoda used to be – right at the heart of the action.
And, by night, the Hot House will transform into our after-hours club venue with great DJs each night. In 2022, The Hot House DJ sets became 'the' place to be at the festival. This year, for our 50th, we'll be taking it even higher!
The Methodists – Hope and Anchor
The Methodists are bringing back the Hope & Anchor alcohol free bar and conversation space to the festival this summer and we're relocating this beautiful venue right into the heart of the main Arena. Billed as dry bar with free-flowing, real, gritty and sacred conversations about justice, faith and identity, the Hope & Anchor is wonderfully hosted as an alcohol-free space for the kinds of conversations you've always wanted to have, with contributors, friends, and strangers. Come as you are to simply relax. Come to talk, listen or bring your questions. Let the conversations flow! From the afternoon 'Matchstick' sessions to the evening 'Secret Specials' featuring special guests from the main programme, The Hope & Anchor is where it's at.
Trussell Trust – The Living Room
Brand new for this summer, we're excited to be working with the Trussell Trust on a venue and programme called The Living Room. The Living Room will be hosted by and will privilege and platform people with lived experience of poverty. It will be a space for listening and for learning how we can and need to change if we are to be a church, a community, a society where those in poverty are genuinely welcomed, included and empowered. Expect 'how to' workshopping, table-top conversations, a place to be – with daily 'Places of Welcome' sessions, too.
The Trussell Trust supports a network of more than 1,200 food bank centres, who give emergency food and support to people in crisis across the UK, where more than fourteen million people live in poverty. As well as providing emergency food supplies to people in crisis, The Trussell Trust also engages decision-makers with the realities of poverty and are particularly interested in ensuring the UK has a robust welfare safety net and that work that pays enough to keep people out of poverty.
Goodmakers Society – The Exchange 
We're delighted that The Exchange venue will be making a comeback this year, thanks to the energy and passion of the good folk at Goodmakers Society – who will be collaborating with HeartEdge and CMS Pioneers to create a space that is all about community-minded, values-led entrepreneurship and business for the common good. Expect a range of programming designed to provoke and inspire around alternative economies and ways of doing business that are fairer to people and planet.
The URC – yoURCafe
Our friends at the URC are bringing back their family cafe, crafting and conversation venue – yoURCafe. Expect more great value food and drink and a space for crafting and conversation right at the centre of the festival. The URC youth team will also supporting us in hosting, holding and collaborating on the programming in our youth venues – the Engine and Den – onsite.
The URC (United Reformed Church) are a family of Christians, worshipping in the name of Jesus in about 1,500 local churches from Orkney to Cornwall. They do not fear change, and they try to run their churches in ways that take everyone's insight and contribution seriously. 2022 sees their 50th anniversary as a denomination and they'll celebrate that at Greenbelt.
---
ASSOCIATE PARTNERS
We're excited to be working with Citizens UK to recruit hosts for Ukrainian refugees this year. As a UK Government Recognised Provider for the 'Homes for Ukraine' scheme, Citizens UK has hundreds of Ukrainians needing hosts – and, as we approach our fiftieth anniversary, we want to help by recruiting 50 hosts in the run-up to this summer's festival. Please let us know if you would like to come to a special webinar for Greenbelters on how to get involved.
Citizens UK will also be bringing a group of some 100 people of all ages who would otherwise not be able to access the festival with them, as well as collocating with us on some really exciting festival moments – more to be revealed soon.
Citizens UK is a people-power alliance of diverse local communities working together for the common good. Their mission is to develop leaders, strengthen civic organisations and make change.
We're delighted to welcome Home For Good to join us this year as a brand new associate partner. Home For Good work to mobilise the church in the UK to respond to the needs of vulnerable children through families stepping forward to foster, adopt or provide supported lodgings for teenagers and to influence wider society through advocacy and engagement to create systemic change. They want to see the church community playing its part in ensuring that every child and young person in the UK has the home they need.
At the festival, there will be a link between Home For Good's work and Carrie and David Grant's session around their brand new book, A Very Modern Family, in which they will talk – among other things – about their adopted child. We also plan to host a meet-up-cum-networking opportunity for any and all Greenbelters who would like to know more about becoming an adoptive or foster parent to come and find out more as well as for those already on those journeys to be in solidarity and share their stories.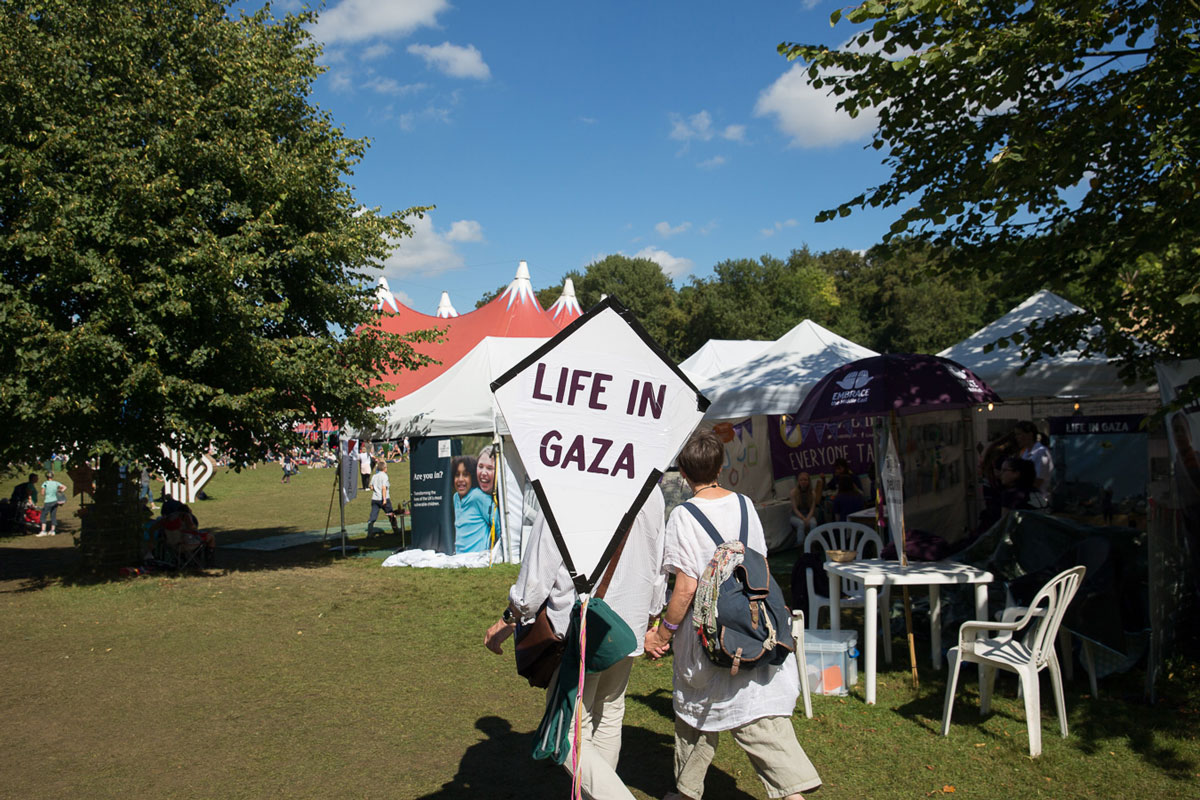 After a few years away, we welcome back Embrace the Middle East to be with us at the festival, shining a spotlight on the worsening situation in Palestine/Israel – as well as on their wider work across the Middle East. Each day in The Shelter, Embrace will host worship with Middle-Eastern music and insight, reminding us of the Christian community there that calls for us to stand with them for justice and equal rights for all those who call Palestine and Israel their home. In addition, they will be bringing across Daniel Munayer, the Executive Director of Musalaha, a faith-based organisation that teaches, trains and facilitates reconciliation between Israelis and Palestinians. He was also the first Palestinian to address the UN Security Council. He did so at the invitation of US Secretary of State Anthony Blinken.
---
TAKEAWAY PARTNERS
Christians Against Poverty (CaP) 
CaP are back with us at Greenbelt to engage you with the vital work they do in supporting people – practically and prayerfully – to manage, budget and plan their way out of crippling debt – a work that is becoming ever more urgent and needed by increasing amounts of people in the UK.
Student Christian Movement (SCM) 
SCM will be hosting student meet-ups in the Jesus Arms as well as running a session on finding funding for (non-church) types of vocation after university.
---
OTHERS
Northern Lights
Some things come and go at Greenbelt. Others come and grow. And Northern Lights is one of the latter. It's a resourcing and networking space hosted by a creative coalition of three organisations whose geography and / or mission and values mean that they work and see things from the margins, prophetically challenging the status quo at the centre – The Iona Community, Church Action on Poverty and Fischy Music.
Greenpeace
Greenpeace will be back with us again this year and we're looking forward to welcoming them to a festival they described as having their favourite and most engaged audience from their summer-long tour of festivals last year.
---
FUNDERS
Theos are supporting us in bringing 'Grief Moves', a collaboration between The Loss Project and The Fandangoe Kid, to be in residence, as well as in hosting a panel conversation on death and dying that brings together all those on the programme connected with this thread, including Kathyrn Mannix, Ru Callender and the Fandangoe Kid.
William Temple Foundation are supporting us in bringing Professor Beth Singler over from the University of Zurich to talk about all things AI and digital religion.
The Westhill Foundation are supporting us for a third year with a grant to help us continue to bring great Muslim artistry and thought to the festival.
Christian Connection will host meet-ups for single festivalgoers in the Jesus Arms. 
---
TAKEAWAY
And not forgetting the twenty or so organisations which will be present at the festival in our TakeAway exhibitor stalls. We'll be sharing more about them later in the year.
---
All in all, a wealth of brilliant organisations for you to meet and be provoked and inspired by at this year's festival. We can't wait.