Everything you need to know about coming to Greenbelt
Essential Info
In the weeks leading up to the festival we will email you our Essential Info guide with all the information you will need to navigate yourself to and then around the festival. We will also post all this detailed info on this page.
In the meantime, you'll find quite a bit more detail below and you can also click the link to the right to view this year's 2016 Essential Info Booklet (to get a sense of what you'll need to know).
Links
Travelling to Greenbelt
How you travel to and from the festival is the biggest contributing factor to our carbon footprint. Public transport is the greenest option.
By Train & Shuttlebus
If you arrive by train you can catch our shuttle bus which will take you from Kettering Station (bus stop at corner of Northfield Avenue (2 minutes from the station entrance) straight to the Festival Site. Bus times are listed below or can be downloaded as a printable PDF here.
Shuttlebus Fares:
| | |
| --- | --- |
| 18 and over | £5 |
| 5 to 17 | £2 |
| 0 – 4 years | Free |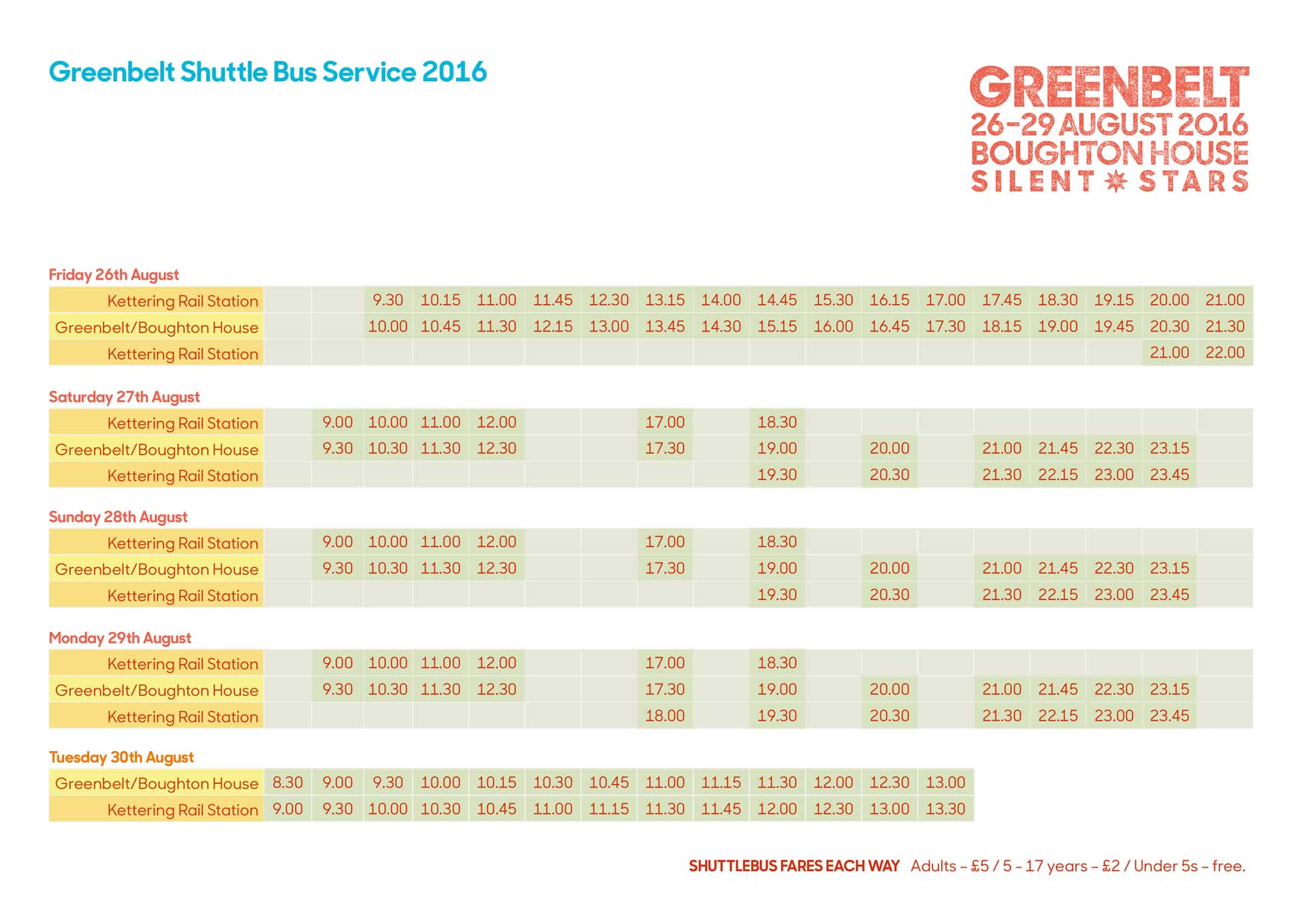 Links
Approximate rail journey times to Kettering Station from:
Leicester (25 minutes)
Nottingham and Derby (55 minutes)
London (60 minutes)
Sheffield (1 hour 25 minutes)
Leeds (2 hours 15 minutes)
Brighton (2 hours 45 minutes)
Bristol (3 hours 25 minutes)
By Car or Bicycle
By Go Car Share
Why not lift-share by using Go Car Share, where you can request a lift or give someone a ride to Kettering?
By Car
PLEASE DO NOT ARRIVE BEFORE 10.00 AM ON FRIDAY. There are no facilities to queue or wait on the roadside before you access the site. Under the terms of our contract with the estate we cannot let you turn off the road and onto the estate roads before that time.
Greenbelt takes place in the grounds of Boughton Estate, close to the main House. But, as you approach the festival, please ensure you follow the Greenbelt Festival AA signs and not signs to Boughton House. Do not approach the estate via Geddington or Grafton Underwood. (The House will be open to the public over the weekend. Its entrances are completely separate to the festival's and you will not be able to gain access via them.)
From North, West & Southwest
Please exit the A14 at Junction 10.
From the East & Southeast
Please exit the A14 at Junction 12.
Then follow the AA signage to Greenbelt Festival. Please do not approach the Estate via any other routes, as this will cause you unnecessary delay.
If you are using a SatNav you can use the postcode NN14 3AG until you exit the A14 at the appropriate junction. After that, please follow the AA signs and not your SatNav.
Before you arrive onsite please display your car park pass, and, if appropriate, caravan permit, in the centre of your windscreen. This will ensure quickest access to the car parks. Vehicles without passes displayed will be pulled off to one side where they will have to purchase the necessary passes before proceeding, causing them delays in accessing the festival.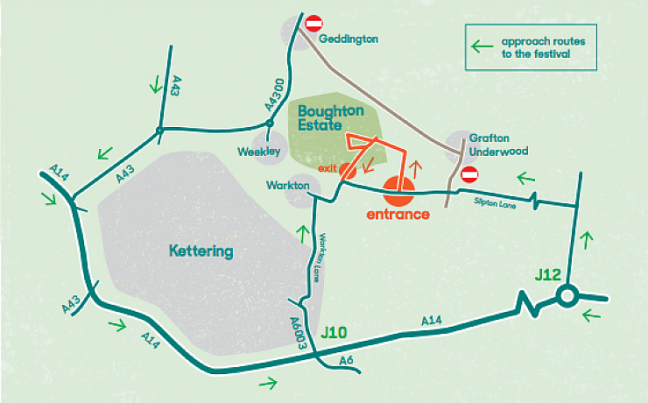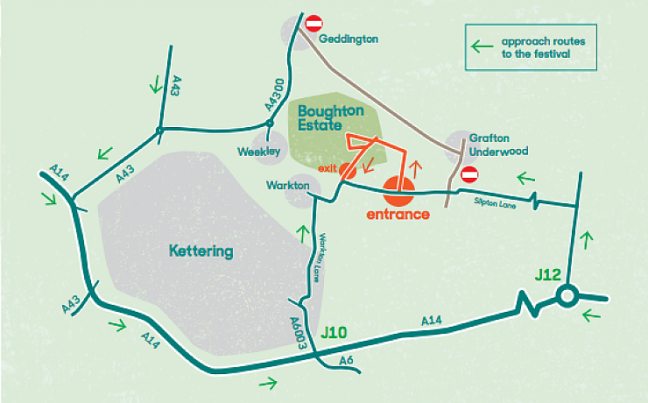 By Bicycle
For those coming by bike there will be somewhere to lock your bike.
If you're being dropped off at the festival, there is temporary car parking with a maximum wait of 30 minutes.
There are toilets positioned near to the Festival Reception and Box Office on arrival.
Entry to site
Boughton House Estate is private property. The area of the estate being used by Greenbelt will be accessible to festivalgoers from 10.00 am on Friday 25th August only.
The Festival Village (where the programming, venues, caterers and traders are located) is separate from the Campsite and will open by 16.30 on Friday 25th August.
The Programme will then begin at 17.00. At the end of the festival, the Festival Village will not be accessible to wristband holders on the morning of Tuesday 29th August.
The Campsite will close at 12noon on Tuesday 29th August.
Vehicles
Car Parking Passes
All cars will need a parking pass – one per vehicle. If you are coming to the festival by car, you will need to have purchased an e-ticket car pass, and you will need to display it clearly in your windscreen before you arrive at the site.
Live-in Vehicle Permits
If you are bringing a caravan, motorhome, camper van or trailer tent to the festival you will need a caravan permit. This will have been emailed to you as an e-ticket to print out. Please display this permit in the windscreen of your car (or campervan /motorhome) on arrival so that the stewards can direct you to a pitch in the designated caravan area of the campsite. 
---
Live-in Vehicle Regulations
Only purpose built and professionally adapted sleeping accommodation will be permitted into the caravan field. Sleeping in cars and vans is not permitted for safety reasons.

Your caravan/camper van should be no longer than nine meters. One small 'pup tent'  – a small tent for children no bigger than a 2/3 person tent, is permitted alongside. Awnings are also permitted. 
You cannot book a caravan permit to use for a tent in the caravan field, they are for caravan, motorhome, camper van and trailer tents only. Anyone attempting to do so will be required to move to the main Camping Area.
Power should be drawn from a separate battery and not your car battery, as your vehicle will not be permitted to stay next to your caravan or trailer tent.
---
Once you have positioned your caravan or trailer tent, please move your car (keeping the pass displayed in the windscreen) promptly to the official car park.
Please be aware
There are no electrical hook-ups available onsite.
Portable toilets will be available in the caravan area, along with Elsan points.
Links
E-Tickets & Wristbands
When you buy your festival ticket in advance you will receive an e-ticket via email that you must print and bring with you. We will NOT dispatch wristbands by post ahead of the festival.
For advance purchasers, whether camping or coming in for the day, you will exchange your e-tickets for festival wristbands either just outside the main entrance into the campsite (on Friday) or at the main Festival Reception (all weekend).
Wristbands lost or removed from your wrist or tampered with will be rendered invalid and you will be required to purchase a replacement.
Please use a permanent marker to write a contact number on children's wristbands. In the event that your child becomes separated from you, we can then contact the designated parent/guardian.
If you are buying your tickets onsite (not in advance), you will be wrist-banded at the point of payment – in the Festival Reception/Box Office.
Links
Campsite
On arrival, you will be directed to a designated car parking area by the stewards and from there you need to make your way to the campsite. Trailers (which aren't trailer tents) must be parked and unloaded in the car park. Please do not camp outside of the designated areas.
There are two camping areas at Greenbelt:
Festival Camping areas (for tents only) – including general camping, pre-booked deaf and disabled camping, early curfew, youth, glamping and Tangerine Fields (pre-erected hire tents).
Caravan area (for caravans, motorhomes, camper vans and trailer tents) – including pre-booked deaf and disabled caravan spaces.
Vehicles are NOT permitted into the Festival Camping areas. On arrival, please park your car in the appropriate designated car parking area as directed by the stewards and make your way to the campsite.
Please note: Access to disabled camping must be booked in advance. Email disabledcamping@greenbelt.org.uk
Other Campsite Information
Utilities – cold water standpipes are situated throughout the campsite. This water is suitable for drinking. There will also be sink units for washing your hands.
Toilets are located throughout the festival site and campsite.
Rubbish – please bring your own plastic bags for waste and place them when full in the bins provided. There will be collecting bins for different types of recyclable waste across the festival site.
The Campsite Hub is situated between the main campsite and the Festival Village. You'll find the 24-hour Kindred Café, the Parent Support Venue (PSV) and a General Store for all your basic food and camping requirements there. (There is also a PSV inside The Orchard in the Festival Village.)
Showers are located next to Glamping and can be pre-booked onsite or online.
Baby-bathing is available in the Parent Support Venue (PSV).
There will be a cashpoint within the Festival Village.
Please bring a torch, as Boughton Estate is in a rural area and parts of the campsite will be very dark at night.
Leave no trace – as Greenbelt campers, please help to ensure you leave no trace of your visit. Please continue to be particularly vigilant about small items such as tent pegs, which can be hazardous to animals.
Unwanted non-perishables – at the end of the festival, please bring any unused, unwanted non-perishable food items you don't want or need to take home with you to the Campsite Office (all day Monday and Tuesday morning) from where it will be collected and then redistributed by the local Kettering Foodbank.
Links
Taxi-Buggies
We'll have two types of support to help get your stuff and those with access requirements from the car parks and into the campsite and Festival Village areas.
Taxi-buggy Trailers & Flatbeds for Luggage
These will operate all day on Friday and Monday, plus Tuesday morning. Primarily, luggage movement will be by flatbed, or with people having one bag alongside them in a taxi.
NB: you may not be able to accompany your luggage on flatbeds but will need to walk to the designated drop-off point.
Taxi-buggies for Passengers
From noon on Friday to Tuesday midday. Taxi-buggies will operate a fixed route service, with fixed 'stops' to maximise capacity and efficiency
There will be a continuous and dedicated passenger buggy run from the Festival Reception / Box Office to the main gate of the Festival Village.
The other routes and stops will be serviced regularly, but are mainly operated for luggage movement (on flatbeds and taxi-buggy trailer) during get-in and get-out, and then for people with access requirements as a priority for the rest of the festival.
Barrows
Hire and push your own rainbow barrow.
Get-in (Friday & Saturday morning)
Pick up your barrow in car park, transport your stuff across to the campsite and then drop off your barrow to drop-off point by campsite office.
Get out (Mon afternoon & Tuesday morning)
Pick up your barrow in campsite, transport your stuff across to the carpark and then drop off your barrow to drop-off point in the carpark.
Safety
Camping space is available on a first-come, first-served basis. To ensure that everyone has fair access to the camping areas, reserving space is not permitted (with the exception of pre-bookable Disabled Camping).
Routeways for authorised emergency and service vehicles are denoted by striped marker tape. Please do not camp in these areas. A minimum distance of 1.5m must separate all tents and gazebos.
Remember, the campsite is a public space and the security of your accommodation cannot be guaranteed. We recommend leaving your valuables at home and reporting any suspicious activities immediately to stewards.
Fire Safety
We permit camping stoves and household candles (please place in suitable containers with an extinguisher or water close by).
We do not permit personal generators, open fires, disposable barbecues or sky lanterns.
Please do not change any gas cylinders in your tent, or while there is another stove or naked light in use nearby and always check the new cylinder is securely fitted before using. Please ensure a reasonable distance (at least 60cm) between stove and windbreak and never leave any apparatus unattended. If you are involved in a tent fire, get yourself and all other members of your party out as quickly as possible. Only tackle the fire if you feel safe doing so. You must summon assistance from the onsite emergency services, no matter how small the incident is, or even if it has already been dealt with. If you require any further fire safety advice at the festival, or if you are unsure about any of the above, don't hesitate to ask one of the Fire Team patrolling the campsites or at the Campsite Information Point. In the event of fire or a medical emergency:
Raise the alarm
Make contact with a steward (wearing yellow hi-visibility jackets)
Make sure you can describe the location of the fire or emergency
General
Information points are in the 'Info Booth' by First Aid inside the Festival Village and at the Campsite Office in the campsite.
Mobile phones – phone charging is available in The Tank café (for a small fee), but please note that the rural location means mobile phone signal is patchy and there will be limited coverage across all networks.
Alcohol – there is a designated Beer Tent (The Jesus Arms) and Wine Bar (The Blue Nun) in the Festival Village where alcohol may be purchased and consumed. Alcohol may be consumed in the campsite, but you will not be able to bring your own alcohol into the Festival Village from the campsite. Greenbelt operates a Challenge 25 policy, so if you're lucky enough to look under 25, please bring appropriate ID, as an adult wristband does not prove your age.
Pets – animals are not permitted anywhere in the camping areas or Festival Village. Only assistance dogs registered with organisations recognised by Assistance Dogs UK are permitted.
Photography – as a condition of sale, ticket-holders consent to Greenbelt using photographic, audio or video footage for TV, Video, DVD, MP3, CD, internet, CCTV or other public broadcast that may include you – deliberately or inadvertently – as part of the audience. 
Further Terms & Conditions, click on the link for full T&C's
Greenbelt reserves the right to refuse admission or remove people from the site at the management's discretion.
Greenbelt accepts no liability for any loss or damage to persons or property incurred at the Festival.
Parents are responsible for their children at all times. Children under the age of eight must be supervised. Young people aged 16 and 17 attending the festival without a parent or guardian must carry a parental consent form with them at all times. This form must contain contact details in case of emergency. 
Cars parked in all our designated car parks are left entirely at the owner's own risk. If your car is parked 

in an undesignated area it is deemed to be a safety risk and will be removed. Greenbelt does not accept any responsibility or liability for any loss or damage caused to a vehicle that needs to be towed or moved as a result of failure to adhere to this warning. Any relocation of motor vehicles is entirely at the owners' risk.
Links